Wondering how to rent a pool near Philadelphia this summer? We can help you out. 
Pools are the quintessential summer gathering place. They're an awesome place to enjoy the sunshine with friends and family, and they can make chill backdrops for summery photoshoots. And if you need help finding the perfect Philadelphia pool for your summer fun, Peerspace can help. Keep reading to discover how easy it is to rent a pool near Philadelphia with Peerspace. 
What the heck is Peerspace, anyways?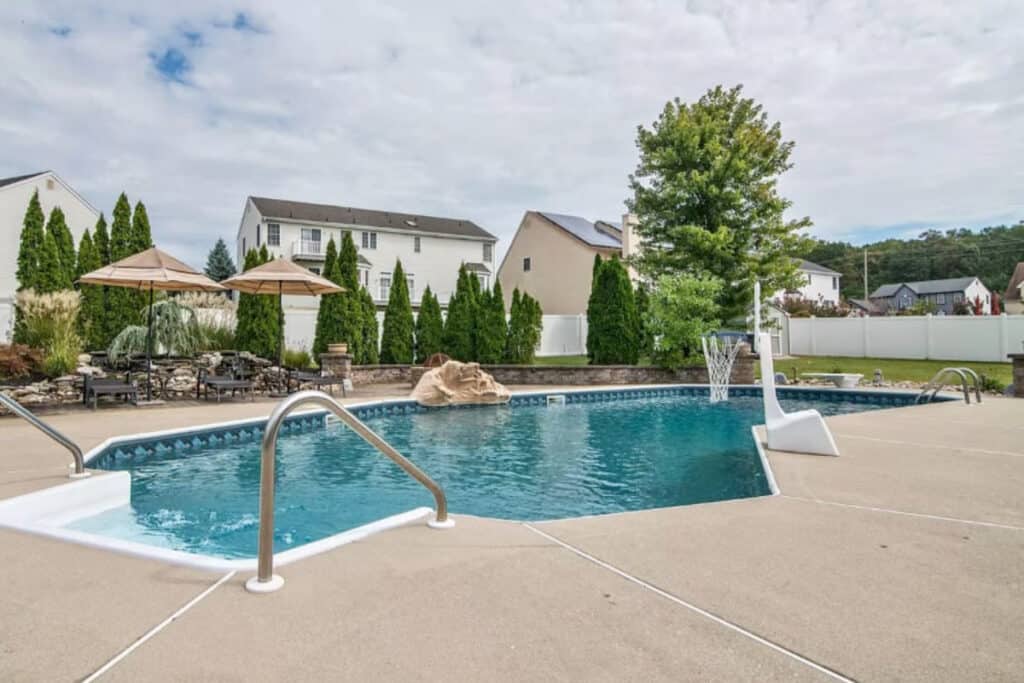 Peerspace is one of the largest online venue marketplaces on the planet. It's home to tons of rentable houses, production studios, rooftops, and of course, pools. 
What makes Peerspace unique? Unlike other platforms that force you to rent spaces for a night, Peerspace lets you rent by the hour. You can rent out a pool for a few hours, or for a whole day of summery fun. It's all up to your goals for your event – and you can host all kinds of events at Peerspace pools, too. 
Some of the events you can host at Peerspace pools include:
Birthday parties
Baby showers
Gender reveals
Bachelor/ette parties
Anniversaries
Dinner parties
Outdoor cookouts
Photoshoots 
Film productions
Tons more
Now let's talk about how you can find the perfect pool near Philadelphia on Peerspace. 
How to rent a pool near Philadelphia using Peerspace 
It's easy to search for pools with Peerspace. First, just head to Peerspace.com. Tell Peerspace what kind of event you're planning – like a kid's birthday party, or a summery photoshoot. Then, type in your metro of choice – Philadelphia, PA, represent! 
You can also add the date for your event, but if you don't have that nailed down yet, not to worry. This step is optional. Hit search, and you'll get a list of available venues in the Philadelphia area for your event. Right now, not all of these will have pool access. But we can fix that by heading to "more filters", "outdoor spaces", and "pools". Now, you should see the cool listings with pool access! Pretty cool, right? 
Rentable pools near Philadelphia on Peerspace 
Now that you've got listings of all the rentable pools near Philadelphia, you can filter them down even further to see the ones that will work for you. Here are some of the pools you can find near Philadelphia with the other Peerspace filters:
Filter pools by price
With Peerspace, you can filter listings by price to see only the pools that will work for your budget. If you want to see rentable pools near Philadelphia for $100 an hour or less, check out this outdoor waterscape in Sicklerville, New Jersey. 
In addition to the sparkling inground pool, you'll also have access to plenty of outdoor green space, including a built-in fire pit and a basketball court. There's plenty of space to host poolside events, like baby showers, birthday parties, or other outdoor get-togethers. The photogenic atmosphere would be awesome for poolside photoshoots! 
And at $75 an hour to rent, it's awesome for those who want to enjoy the perks of a private pool without breaking the bank. Come see for yourself on Peerspace. 
Filter pools by location
Location is one of the most important factors when choosing your pool. When you search for listings on Peerspace, you'll get a map along with your results, letting you see exactly where each pool is located. 
If you're looking to rent a pool near Philadelphia with a convenient location, check out this luxurious garden oasis just outside the city. This pool sits in a historic gated community and features an immaculately maintained garden. It's a luxurious pool that's ideal for high-end photoshoots or extra special occasions. Learn more details on Peerspace. 
Filter pools by amenities
A pool might be the main awesome amenity you're after, but what about other outdoor amenities? What if you want a grill where you can cook out, a fire pit where you can hang out and relax, or even a picturesque gazebo for photoshoots? No problem. Just head back to "more filters", and select the amenities you'd like to have. 
This historic farmhouse near Philadelphia is home to a serene inground pool and a relaxing garden space. There's even a gazebo outback which would look amazing in outdoor photoshoots, once you're done with the pool. Come see photos of the whole property on Peerspace. 
Filter pools by style
If you're planning a photoshoot or an event with a specific aesthetic, then the style of your pool can make or break the end result. Luckily, you can filter Peerspace listings by style to see only the listings that will work for your event. 
If you're a big fan of modern vibes, this home offers a modern-style inground pool with a lounge area and outdoor dining space for up to 30 guests. It's a chill and inviting space that's awesome for summer fun in the Philadelphia sunshine. 
On the other hand, maybe you favor Philadelphia's historic roots and love the farmhouse style. No problem. You can find plenty of farmhouse-style offerings on Peerspace, like this historic farmhouse dating back to 1742. The inground pool is nestled in a cozy garden space, surrounded by lush trees. It's the best of both worlds. 
How to rent a pool near Philadelphia: conclusion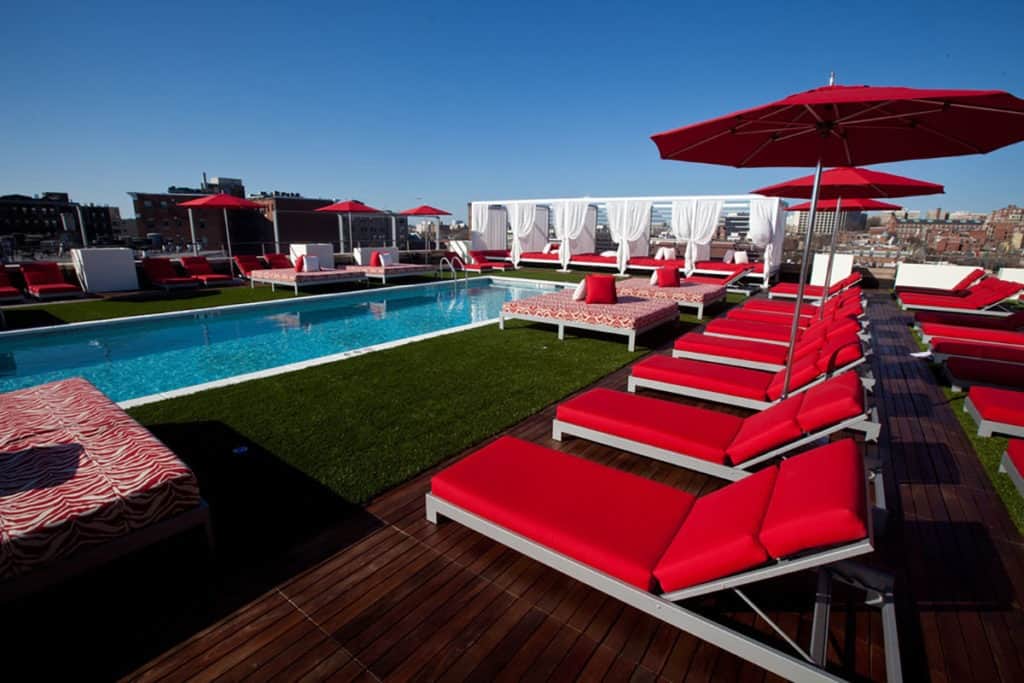 Peerspace makes it simple to rent amazing pools near Philadelphia with ease. Oh, and one other thing: to make your poolside event run smoothly, Peerspace offers a dedicated Concierge service. 
If you need anything for your event, like extra tables and chairs, just contact them beforehand. They can work with local vendors to accommodate just about any request. You don't have to lift a finger. They can arrange for whatever you need to be delivered to your pool beforehand. 
It's just one more reason why renting a pool with Peerspace is a no-brainer. Give it a try for your next big poolside event in Philadelphia!