Looking to rent a pool near Miami? Miami is hot and sunny just about year round. In fact, it boasts the hottest winter temperatures of any city on the United States mainland! For many of us, that hot weather means lots and lots of time spent in the pool, swimming, splashing around, or just floating and enjoying the sunshine and cool water.
For anyone who needs to rent a pool near Miami, we at Peerspace share how to make the process a breeze. We'll provide you with advice on the best strategy and online location to find great pools for hourly rental. Finally, we'll offer several examples of pools you can rent. That way, you can better understand what's available to you in Miami right now. Let's get started!
Reasons to rent a pool near Miami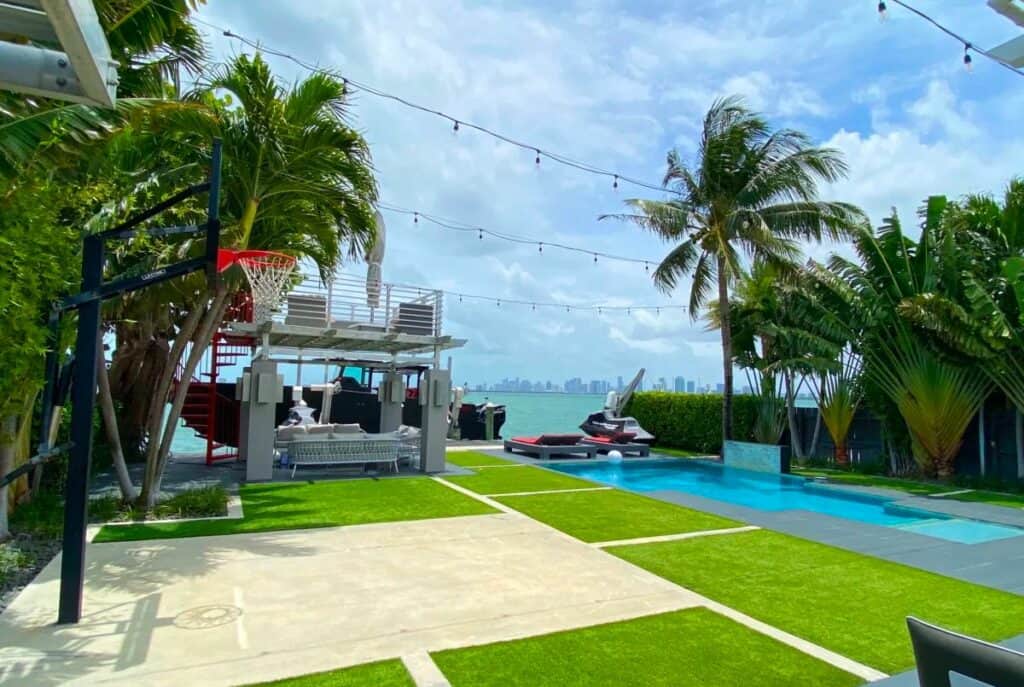 As stated before, even in winter Miami can be really warm and a pool is a great way to cool down and have fun in the process. There are also lots of additional benefits to having pool access.
Pool parties
For starters, pools are a great way to bring family and friends together. You can swim together and play in the water or simply relax by the water, sipping lemonade.
Most people don't have a pool of their own, so renting a pool can be an awesome alternative. It allows you to have private access to a pool for as long as you want. And with hourly rental through Peerspace, rents are by the hour without the exorbitant cost of building one yourself.
Pools for productions
Besides bonding with loved ones, there are other reasons to rent a pool near Miami. For instance, you might rent one as a glamorous and idyllic setting for a creative project. Many creators use pools for photoshoots, films, music videos, or something else entirely.
Convinced that renting a pool is the right choice for you? Keep reading for our advice on the best place to do so!
Rent a pool near Miami with Peerspace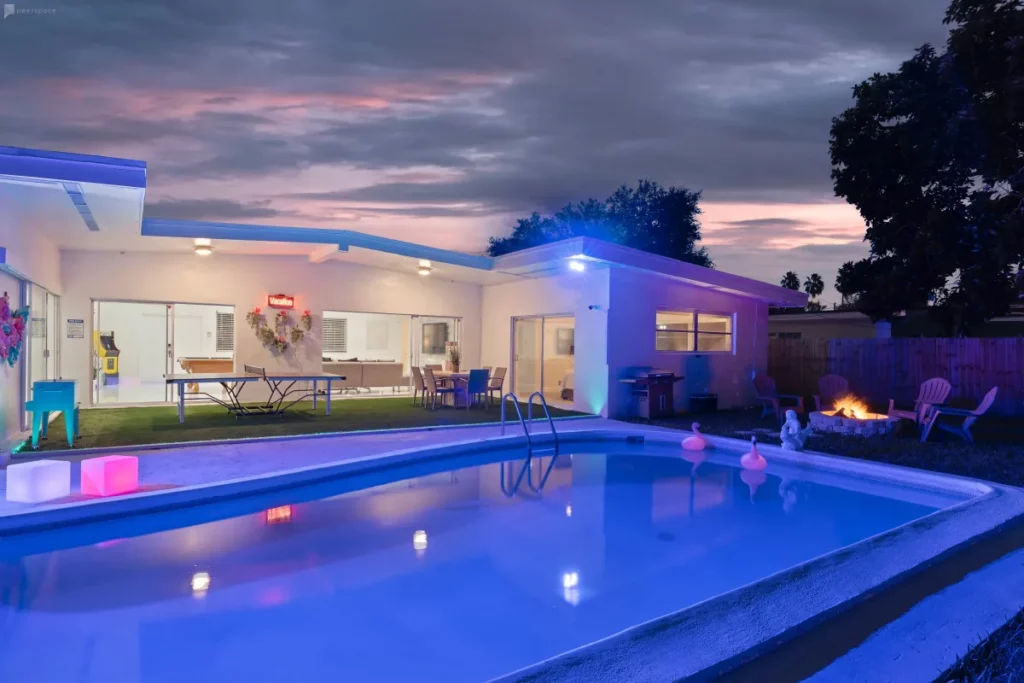 Rather than going the long and tedious route of doing something like searching "pools near Miami for rent" on your preferred search engine, there's a much easier way to find what you're looking for. It's Peerspace, the most extensive internet marketplace renting spaces by the hour. These spaces include spaces with pools, as well as all kinds of other varieties of location (Apartment? Loft? Mansion? Church? The sky's the limit!) that you might be looking for.
This is true of spaces throughout Miami, of which there are plenty listed for rental on Peerspace. However, Peerspace also has thousands of listings spread across hundreds of cities not only in the United States but also in Canada, the United Kingdom, and beyond.
Okay, so Peerspace's selection is to die for! However, what's equally important is the fact that the process of finding a pool that will be the right fit for your needs is impressively straightforward. That's because the Peerspace search tool is an intuitive means of narrowing your search down to only include the spaces that fit your specific parameters. Let's discuss that further ahead.
Using Peerspace to rent a pool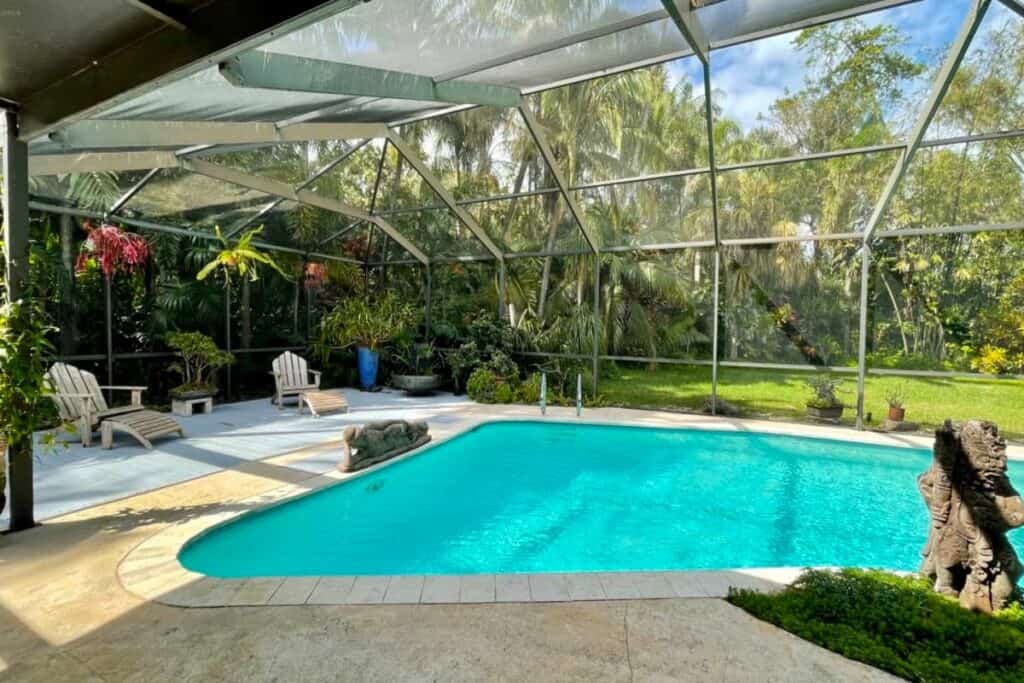 How to get started with your search? On the Peerspace homepage, enter the type of event you're planning as well as where you're planning to have it (Miami, Florida, in this case).
With a search like this, you'll get lots of results, but not all of them will have pools yet. To ensure that you only bring up Miami-based listings with pool access, go to the "More filters" section at the top of your search results page and check off "Pool" in the "Outdoor spaces" sub-category, then submit your search.
Now you should only see Peerspace listings that include pools. From here, you can narrow your search down by even more criteria: price, a number of attendees, date of your prospective rental, included interior spaces, style of the space, available production equipment, type of space, amenities available, and even more.
Having narrowed your search down as much as you want, you've made the next step of browsing through specific listings much more efficient. On Peerspace, looking at individual listings means taking in their high-resolution photos, detailed descriptions of each space, and in many cases, reviews from those who've rented the spaces in the past. You can get a clear sense of what a space will be like without actually having to visit it in person.
And if after all that you still have questions or requests for the host? Just reach out directly to the host of the space and get more information – it's easy to do through the listing page itself.
Examples of pools for rent near Miami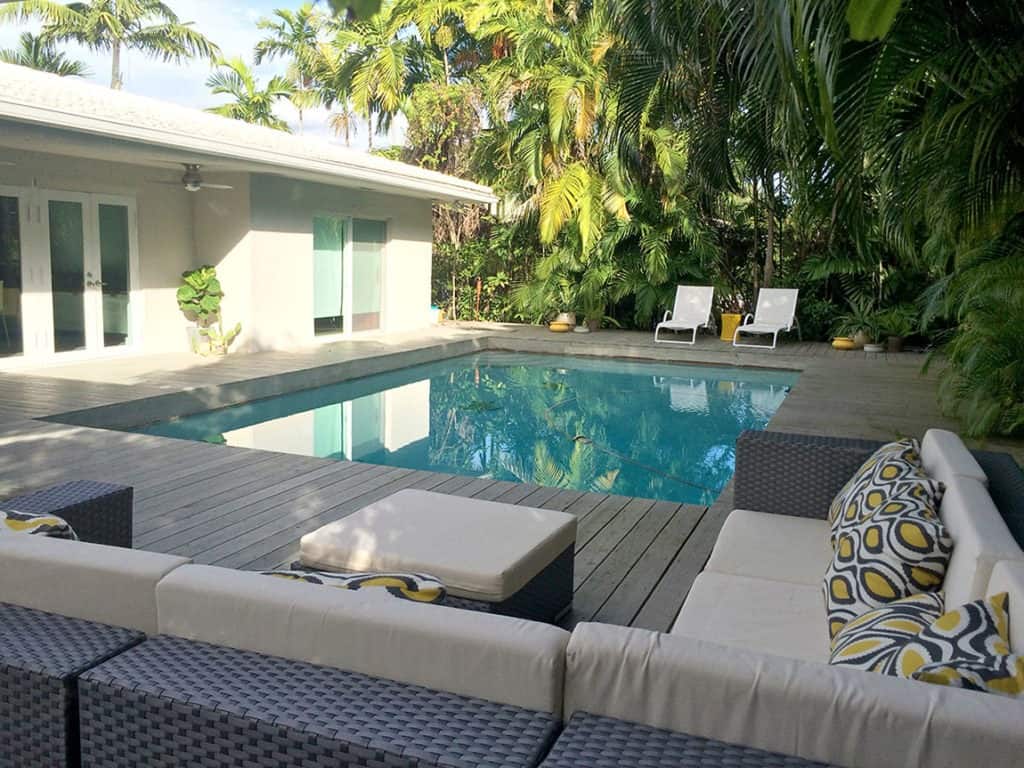 To help you get a sense of what the Miami market has to offer, here are a couple of our favorite pool rentals available on Peerspace.
As the host of this space describes this gorgeous location: "Beautiful outdoor space with a 50ft pool overlooking a lake in South Miami/Waterway Neighborhood. Our residential site offers privacy and unique beauty in the heart of Miami. This older pool has a western exposure and was built in the 1970s creating a retro feel to the backyard venue. Included on the property with your booking is a paved area with a wonderful old ficus tree as a backdrop, and also a small, quaint side patio". It's no wonder this listing has so many glowing reviews!
We're huge fans of the Secret Garden Villa, which is best suited to "those who enjoy the throwback vibe style while keeping a modern touch. The property features 4 bedrooms, 3 bathrooms, pool, BBQ area, and a big secret garden. Our Villa is in the city but looks and feels like you are far away from it". You'll love the pool as well as the two rooftop terraces and large garden with a calisthenics area!