Hosting international event planners opens up a new revenue stream, especially since venues can charge premium prices for international packages and services. It also opens up an entirely new world of potential prospects and customers.
You may be thinking of promoting your venue to international corporate, social, and wedding planners is simply too difficult and out of your marketing budget – but it's easier than you think to attract and drive international event revenue.
You can take advantage of many of your current marketing initiatives and expand on the language and unique services that international planners are searching for.
This Handbook explains how you can use your current marketing initiatives to attract international event planners.
---
EventUp is the largest venue directory, showcasing restaurants, hotels, and unique venues. EventUp streamlines the event planning process for both social and corporate events – with only a few clicks event planners can browse thousands of unique venues ranging from bowling alleys, to concert venues, across the globe, and book directly with the venue all through the EventUp portal. EventUp is where the event planners go! Connect with event planners when they are searching for an event space.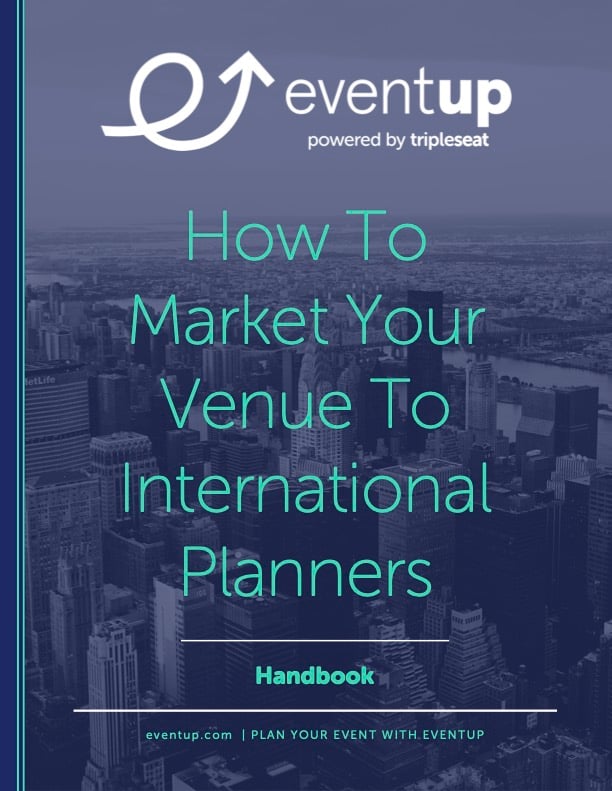 Looking for more even resources, check out the EventUp content library! We have handbooks for the planner looking to plan a better baby shower or birthday party and handbooks and templates for the event manager who wants to execute events a little more organized. Check back often as we always add new content to the EventUp library. 
Not an EventUp venue yet? Get listed today to collect commission-free leads and fill up your events calendar. Schedule a demo with one of our growth managers to explore the expansive list of benefits of being listed on EventUp and the marketing initiatives that EventUp runs to drive more leads to you.