Looking for a few updated Sweet 16 party ideas? Then you've come to the right place! If you don't celebrate quinceañeras or bar and bat mitzvahs, a 16th birthday is your excuse to throw a lavish party for your teen. A "Sweet 16" birthday party is a milestone event that is meant to be memorable. Celebrate your teen's big birthday with a personalized, special party that they'll remember for the rest of their lives. After all, you may have to wait until their high school graduation to have another big celebration. Therefore, take a look at these Sweet 16 party ideas that are unique and totally unforgettable.
And while you're at it, be sure to find the perfect party venue on Peerspace. No matter your teen's style and whether you prefer indoor or outdoor settings (or both!), you'll be able to find a dream rental space near you. You can also consult the Concierge service to have delicious catering and party rentals, like karaoke machines, delivered to your venue! It's a surefire way to ensure your teen's Sweet 16 is the party they'll never forget.
Disclaimer: In order to use Peerspace's site and services, you must be 18 years or older.
1. Book a sweet Peerspace venue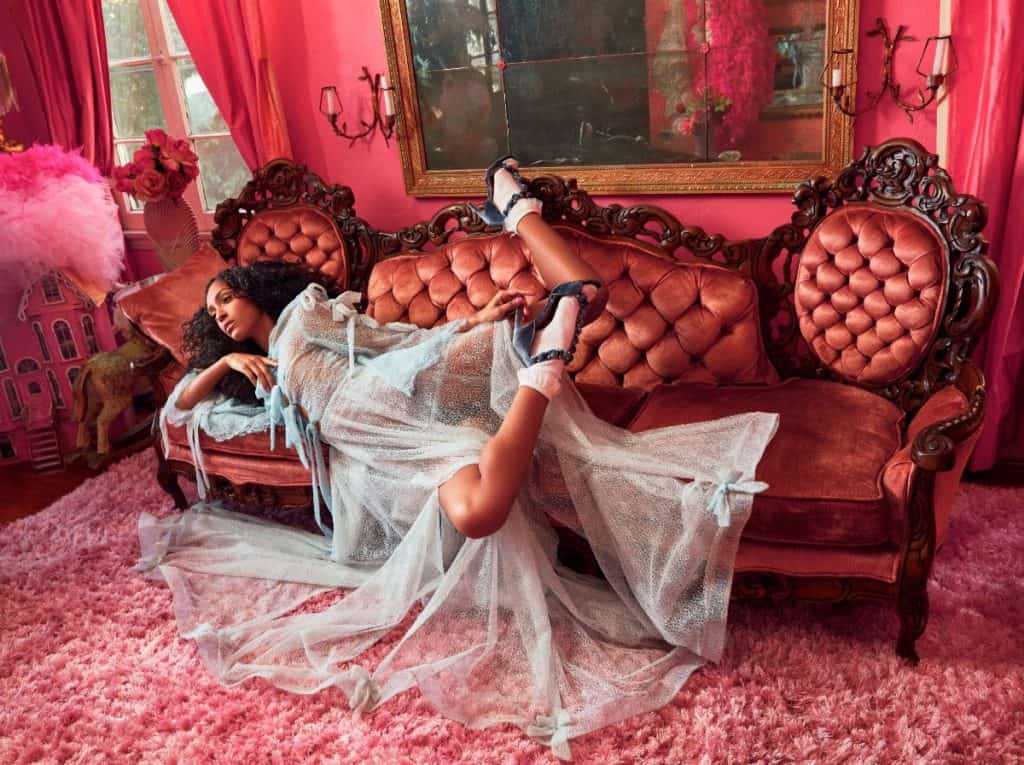 The key to hosting the Sweet 16 party of your teen's dreams is picking the perfect venue. Rather than hosting at your house, consider booking a unique space to really make the occasion special. For example, you could host this coming-of-age celebration in a sleek loft or even a decadent mansion.
You can also tailor the venue choice to the birthday teen's personality — think of a theater for a thespian, a bookstore for your avid reader, a studio for a musician or artist, and so on. Peerspace can help you find a venue that fits your teen's unique style, as well as accommodate a large number of guests.
And remember, if you think your venue needs anything, like special lighting, audio equipment, or catering, contact Peerspace's Concierge service. They are event and logistical pros who can score incredible deals and deliver whatever you need to your venue!
Not super confident in your party planning skills? No worries, we have you covered with our step-by-step guide to planning a Sweet 16 party!
2. Make it as sweet as possible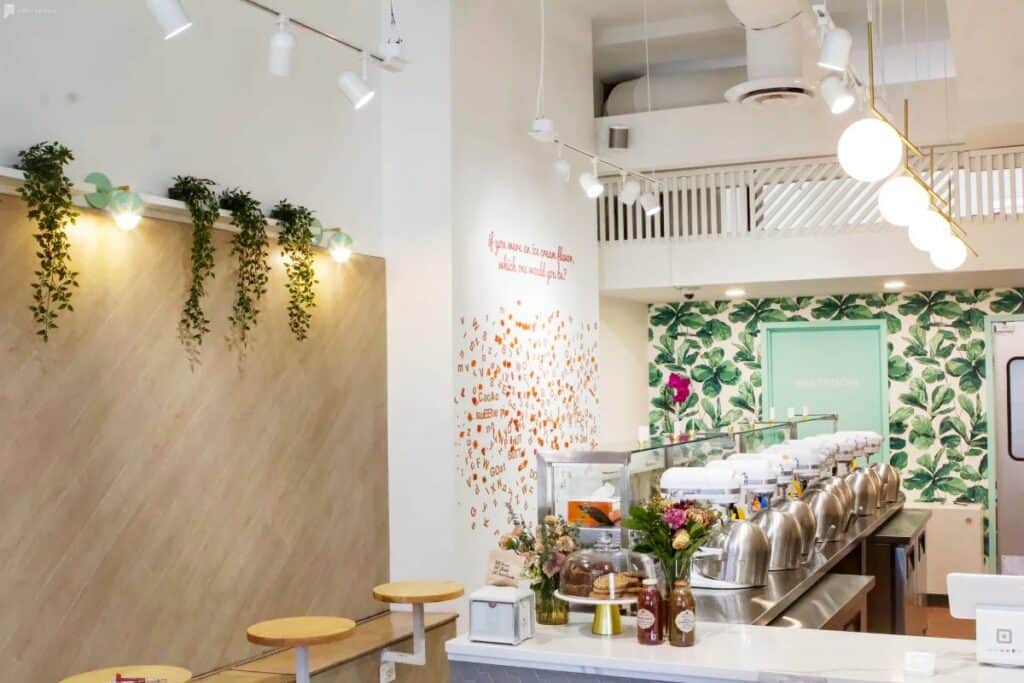 Make their Sweet 16 literally sweet by hosting a party inspired by the Instagram-famous Museum of Ice Cream. Even if you can't visit this dessert-lovers mecca, you can recreate it at your party venue. All you need are colorful props; honeycomb decorations; an ice cream sundae bar full of sprinkles, candy, chocolate sauce, and the works; a photo booth; a donut wall, and dessert-inspired favors like makeup, bath products, or stationery (Target is the perfect place to find these). This is one of those fun Sweet 16 party ideas that let your imagination run wild. Think of it as a chance to bring the Candyland board game to life!
You can also save yourself the time it takes to put up and take down decorations and look for a fully-operational ice cream parlor on Peerspace to host the party! One of our favorites is this cute ice cream parlor event space in Washington, D.C. (pictured above). The venue even provides your very own ice cream attendant to serve scoop after scoop to you and your guests!
Our 12 sweet ice cream party ideas post is the perfect companion piece to this idea
3. Celebrate nostalgia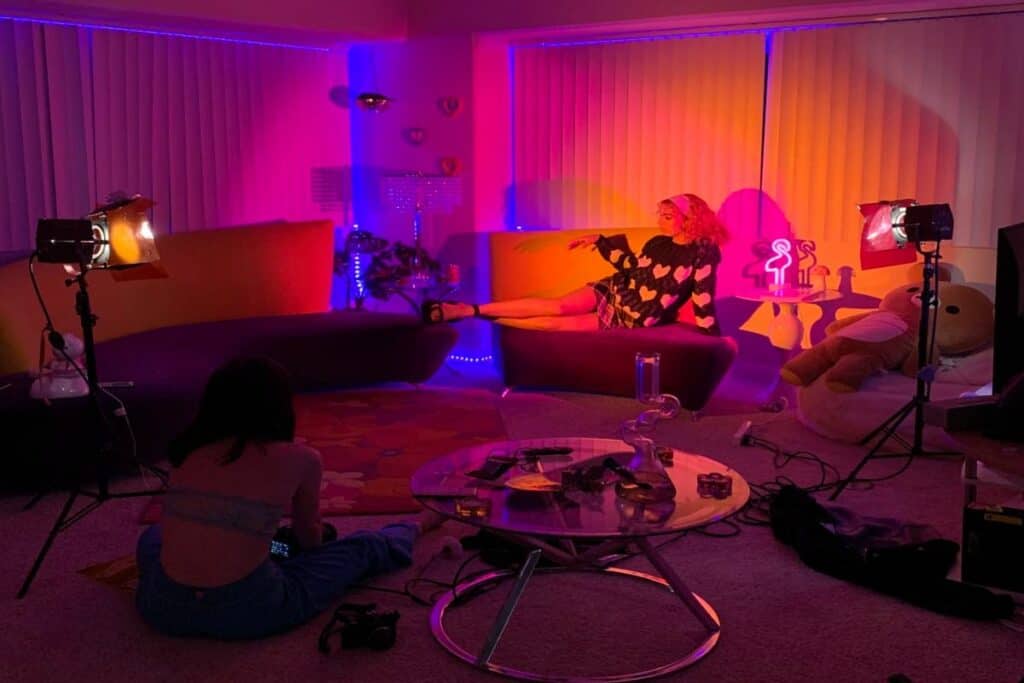 This coming-of-age celebration is the perfect opportunity for a throwback. Dig up some childhood memories and party like it's the early 2000s! Incorporate your teen's old favorite cartoons, movies, snacks, and candy. Set up a cereal bar with classics like Fruit Loops, Lucky Charms, Frosted Flakes, Cinnamon Toast Crunch, and Mini-Wheats (and don't forget the dairy milk alternatives, like almond, oat, and soy). Invite guests to come dressed as their favorite childhood toys or characters, and snap photos with a Polaroid for an added vintage touch.
Check out our 12 super fun Y2K party ideas to take this theme and run with it!
4. Set up or rent a photo booth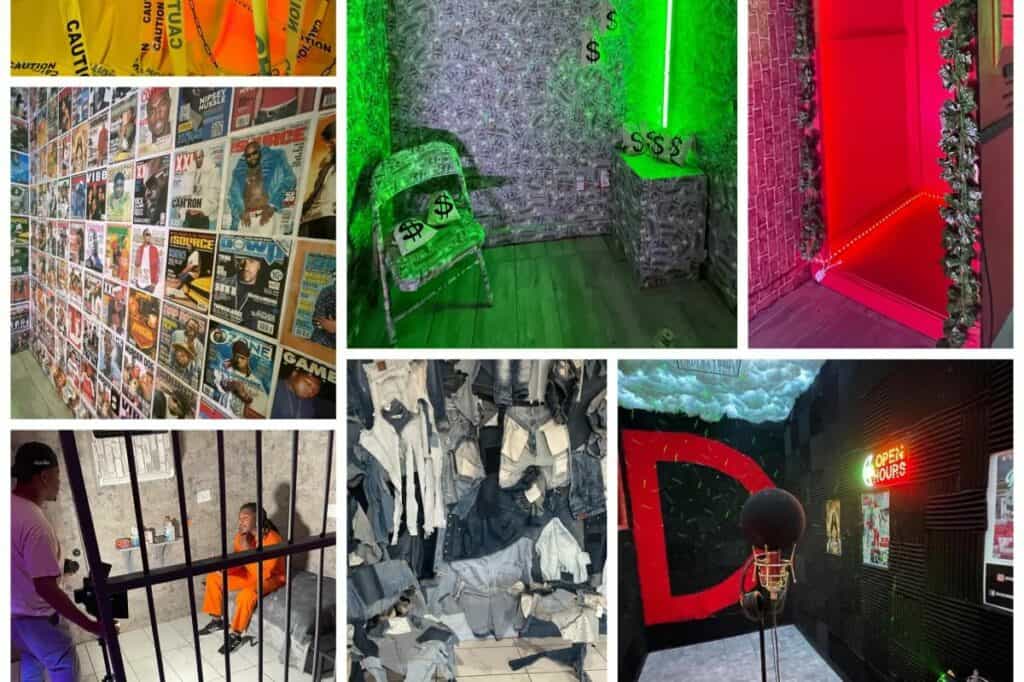 Teens won't be able to resist a selfie station. For a cheap, do-it-yourself option, set up some PVC pipes and fabric for a cool backdrop. Or, rent a photo booth and let the memory-making begin! For some added fun, purchase foil number balloons so guests can hold a "16" in their photos. You can also throw in props like hats, signs, and silly glasses.
You can also opt to book a Peerspace venue that is perfect for hosting a party and that happens to be wildly photogenic. A savvy idea can be to book a multi-set production venue, like this Dallas space, that offers your teen and their friends multiple backdrops to pose in front of.
Share the photos with everyone digitally or print them out as favors. Come up with a unique hashtag just for the party like #MySweet16Soiree so that everyone can tag their photos with it.
Get started with these 12 fun Sweet 16 photoshoot ideas!
5. Host a pajama party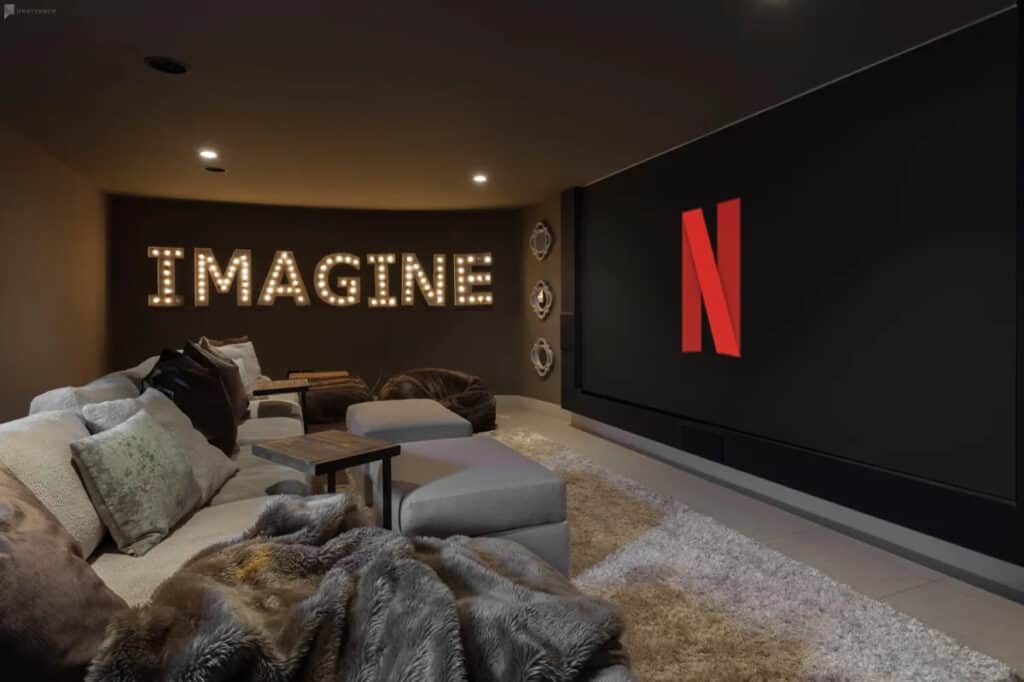 What is a pajama party doing on a list of Sweet 16 party ideas? Well, their Sweet 16 party might be the last chance your teen has to throw a pajama party — until they're living in their pajamas in college, of course. Play some relevant movies (like Sixteen Candles or 13 Going on 30), pop some popcorn, break out the board games, and get cozy. For more fun, make it a fashion contest and award a guest with the best pajamas a prize, such as a cute throw pillow or coffee mug.
Host the sleepover in a stylish and fun Peerspace mansion, castle, cabin, beach house, whatever you prefer. Bonus: if the Peerspace venue comes with a private theater (and many do!) you can have a truly exceptional movie night! Plus, the teens will love all the incredible photo ops that come with staying in a fresh, stylish space. And you'll love the fact that you don't have to clean up after. Everyone wins!
How much does it cost to rent a movie theater room? Get all the details here!
6. Curate a dynamic playlist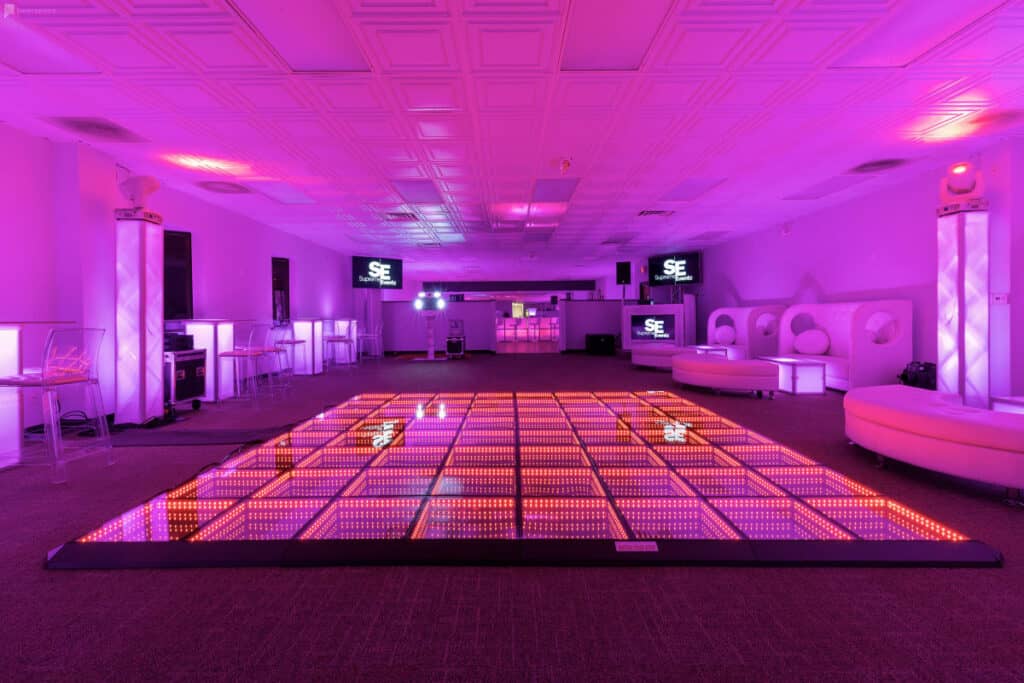 What's a party without music? Book a local band or DJ for a private birthday concert! Snoop on your teen's Spotify playlists to get a sense of their music taste so you can surprise them with the perfect entertainment. If you book a Peerspace venue, you can ask the Concierge service to book a DJ or band for the party. And remember, if you are going to have music, you may need space for a dance floor. Consider this when setting up your house for the party, or simply book a Peerspace performance venue for the best of all worlds.
Now that you have the music sorted, you just need our 8 great dance party ideas to impress the teens!
7. Carry on the 16-candle tradition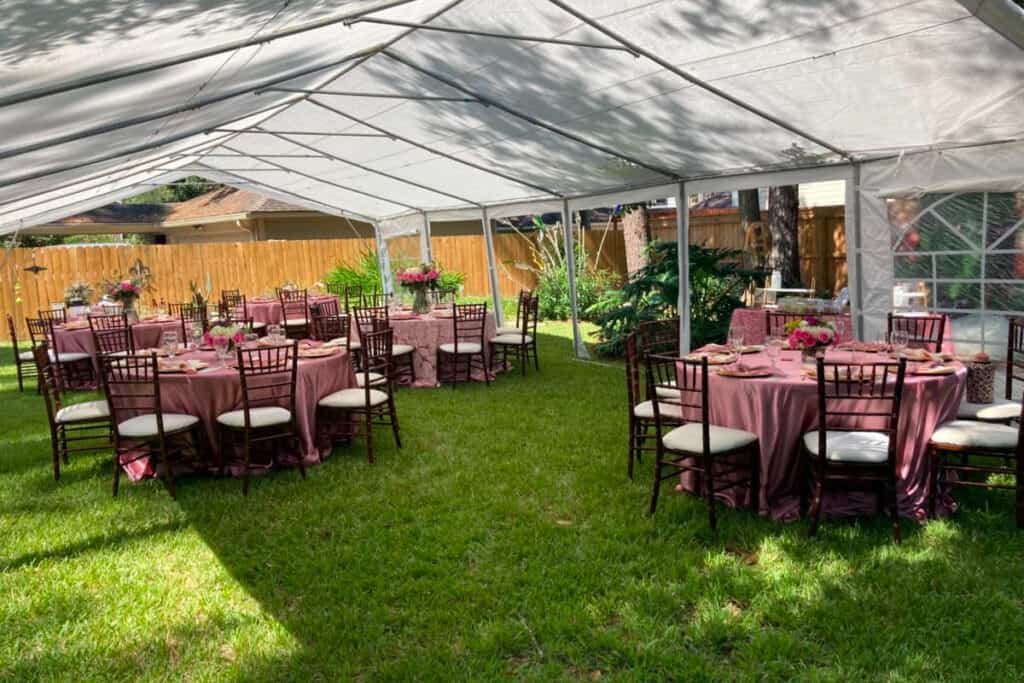 One Sweet 16 tradition involves choosing 16 people and dedicating a birthday cake candle to each by sharing kind words about them before lighting the candle. Give this tradition your own spin and give out some superlative awards, or take inspiration from The Office and give out Dundy-style awards (if your guests can handle a roasting).
You can get custom trophies from Oriental Trading or create your own plaques with small chalkboards and colorful neon chalk markers. Be sure to have plenty of sparkling cider on hand to toast all 16 guests at the end!
Discover more creative birthday party ideas here!
8. Throw a tea party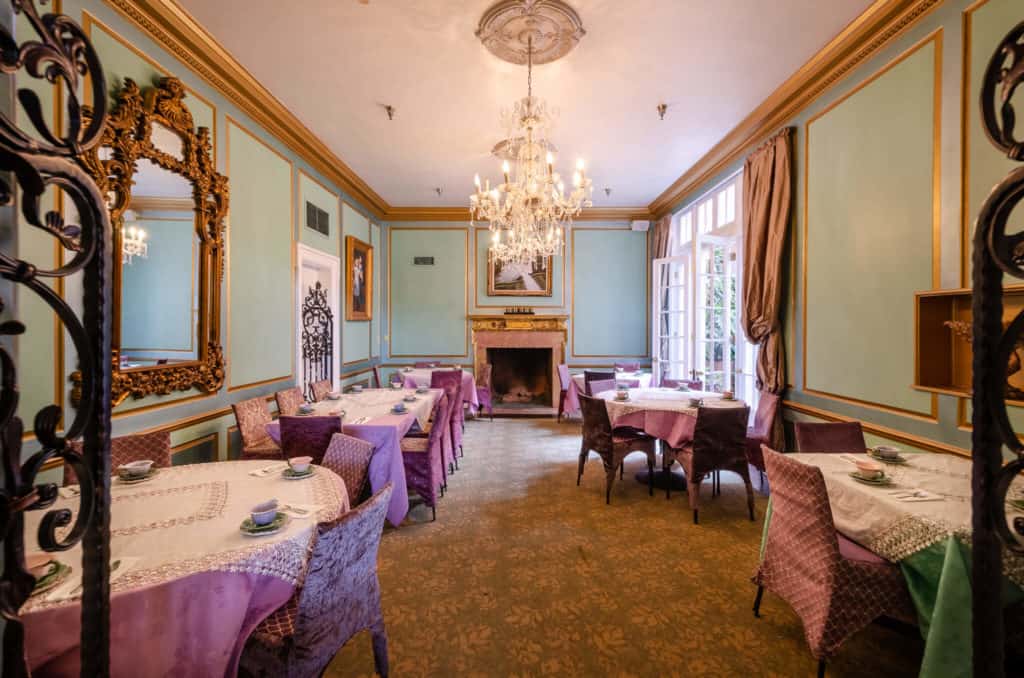 If you can find a local tea room that hosts parties, planning will be a breeze. If not, don't worry. You can do it yourself with enough teapots, cups, saucers, tables, and chairs. To create the perfect tea party atmosphere, use cloth tablecloths instead of plastic, place flowers on every table, display desserts on three-tiered cake stands, and serve tiny sandwiches and bite-sized desserts like macarons. Encourage guests to dress up in their best clothes (it's not a tea party without fancy hats!). For a zany party, go for an Alice in Wonderland theme and use whimsical decorations.
To host the perfect un-birthday birthday party, check out our guide here
9. Celebrate with a four-legged friend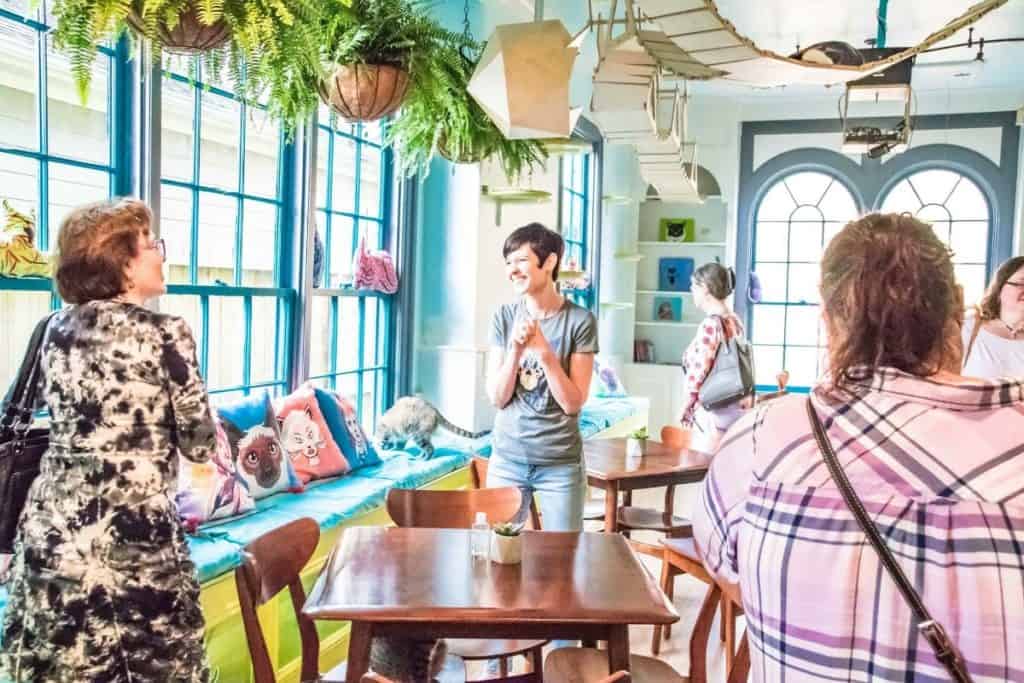 Who doesn't want to cuddle up with a new fur friend at a party if given a chance? And as you may have noticed, cat, bunny, and even rat cafes are popping up in cities all over the country. Make the most of this phenomenon and take your Sweet 16 party to an animal cafe! If you can find a pet cafe in your local metropolitan area, book your animal-loving teen a party in one of these cafes! It is a unique idea and one with endless photo opportunities.
And don't worry — there's always a separate room designated for cake and coffee, so don't expect a well-intentioned creature to hop in your lap in a bid to share dessert with you. Some cafes even offer party packages complete with custom animal-themed desserts.
Bonus idea: pool party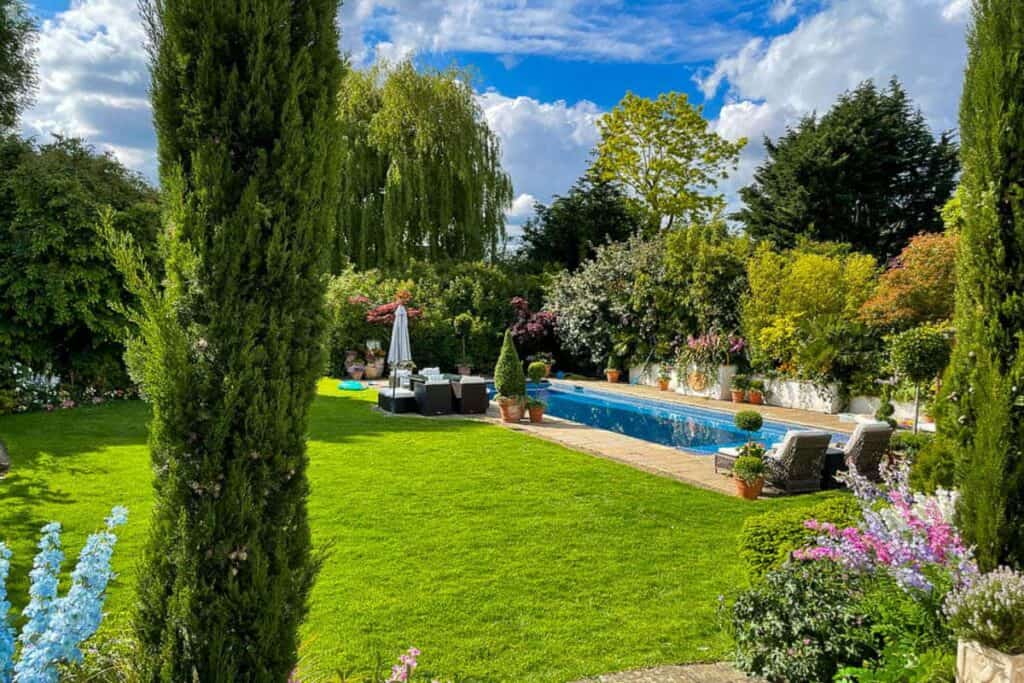 People of all ages love pool parties! But it's an especially fun idea for a Sweet 16 party since it gives your teen and their friends plenty of photo ops for their social media pages (and yes, that very much matters to them!).
Plus, when you have an outdoor party, you can enjoy other activities like playing lawn games, barbecuing, bonfires, and lounging in the sun. If their birthday is in the colder months, consider booking a Peerspace venue with an indoor pool or one with an outdoor heated pool.
Our pool party ideas guide helps you pull off an epic party your teen will never forget!
Peerspace makes it easy to pull off Sweet 16 party ideas!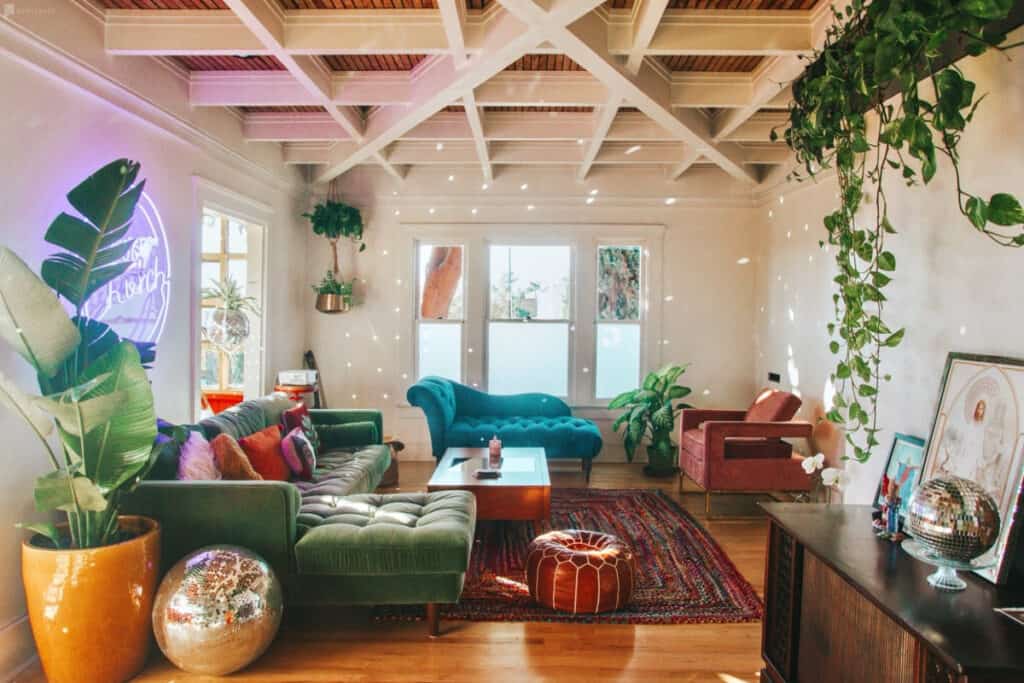 Turning 16 years old means many things — like driver's licenses and first jobs — and this special birthday calls for a spectacular party. Make your teen's 16th one to remember by being a little bit extra. Choose one of these suggestions and run with it. Or combine a few of these Sweet 16 party ideas for one epic bash.
As long as you follow these ideas and book an epic venue on Peerspace, you're guaranteeing a party to remember. And with the services of the Concierge team, it's easy to put all the pieces of the party puzzle together without breaking a sweat! Trust us, your teen will be grateful and have a blast on this special day.