Are you planning a high school graduation party (or any graduation party for that matter) and want to make it a bit unique? Whether it's your daughter, son, relative, or even you that is wrapping up the last days of school, it's time to celebrate! Earning a diploma is one of life's big accomplishments, and a graduation party certainly deserves special planning. 
We've put a list together of today's unique party planning trends that we know will make your high school graduation party memorable. Whether you are hosting a party at a home or at a restaurant or venue, these are some one-of-a-kind things you can do to make this momentous celebration stand out.
---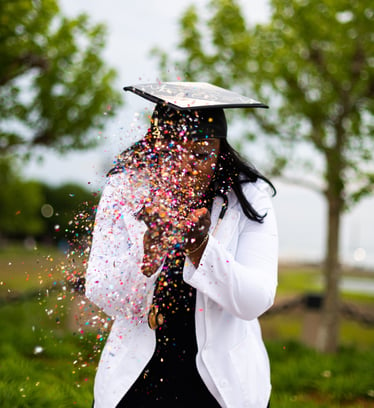 Decor
First, let's talk about decorating for the big event! No matter where you are hosting this graduation party, the decor is key to setting the scene for uniqueness. 
Be sure to consider your decor budget, theme, and how you will go ahead and get it done. Work with what you have and make sure your decor complements the location. If you are having the party at a venue, consider their space and ask about what you are allowed to bring and hang up for decorations. When choosing items, make it as easy as you can for all to set up and clean up. 
Many people who throw parties go all out and buy a lot of generic decorations. You've attended those parties where the room is full of coordinated colors and decorations. However, if you take some time to plan and execute thoughtful decorations, it can go a long way with less. Maybe you have a few items for decor, but they are less common and more impactful. Whether the soiree is inside or outdoors, in your home or at a venue, here are some special decoration ideas that we think will make your gathering one-of-a-kind. 
Personalization
The guest of honor will surely recognize that their graduation party is special to them if you add personalization. Add their name, image, or any other personal favorites to the invites, menus, place cards, decor, gifts, and cake. This will create a memorable impact for everyone at your event. Incorporating photos, personal favorites, or even themes that fit the graduate will go a long way. Here are some ideas for these special touches.
*Photo inspiration from GuiltyChocolateMama blog.
Food and Beverage
No matter where you are holding this special party, you'll undoubtedly be serving food and drink to your guests. Make sure to serve items that make sense. If you are having an outdoor cookout, certain foods and drinks work better than if you are serving a sit-down dinner. No matter what, consider making your food and drink a little more notable and delicious. Many venues and caterers will work with you to customize the menu and if you are preparing the meal, take your recipes up a notch. Here are some suggestions we think are great.
Activities
Last, providing your graduate and your guests with something to do will surely make your event spectacular. Make sure your activity is suitable for all guests and short in duration. If you are having your event at a venue, check first with them to see if having an activity will work well with the space, timing, and logistics of the event. Here are some trends in graduation party activities that we think are amazing.
Celebrate Your Unique Grad
Congrats to your graduate! Now that you know what party trends can make a high school graduation celebration truly special, consider finding an awesome venue to host your event on EventUp, the leading global venue directory with more than 15,000 restaurants, hotels, and unique venues perfect for any graduation party.