Need to rent a pool near Chicago? We might have a few tricks for you.
When Chicago trades chill winter winds for summer breezes, it's an awesome time to hit the pool. Pools can bring laid-back vibes to parties, photo and video productions, and tons of other special occasions. And if you need help finding and renting a pool near Chicago, Peerspace can help you out.
Read on to discover how and where you can rent a pool near Chicago with ease.
Why rent a pool in Chicago?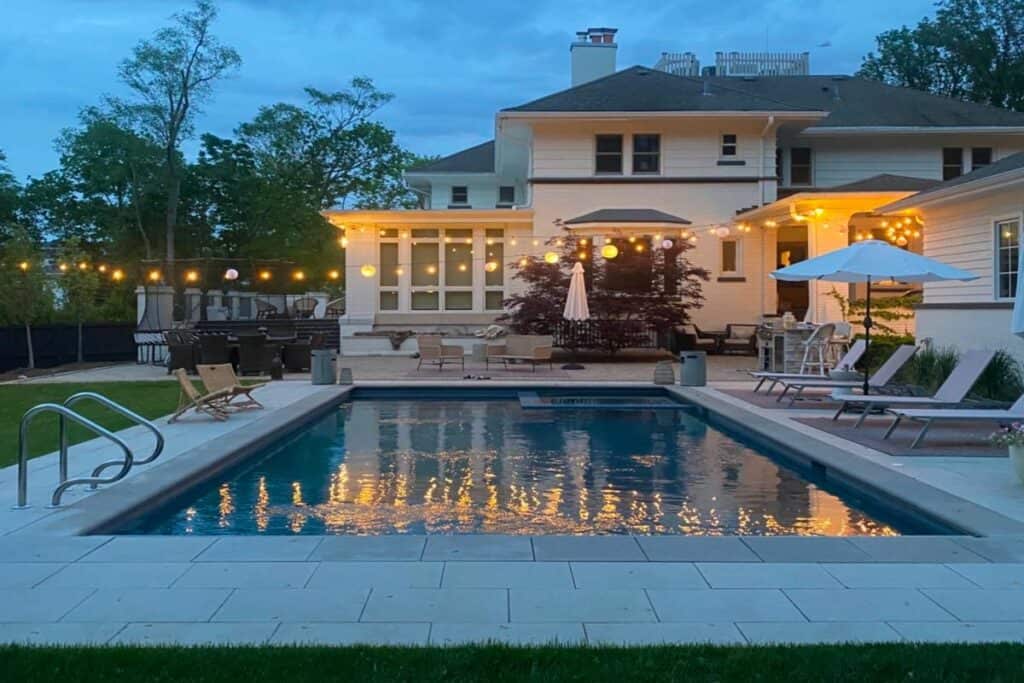 There are a ton of cool events that you can make even cooler by hosting at a pool. Make a splash at a gender reveal or baby shower, soak up the sun at a summer birthday party, or host a dinner party with the cool blue water to keep you company. A pool can elevate tons of outdoor occasions in the Windy City.
Pools are also amazing places to make photo or video shoots pop. You can showcase a summery flair for your Instagram followers, or set the scene for a music video with ease.
And who says you need a special occasion to rent a pool in the first place? Renting a pool can let you enjoy some long overdue fun with friends and family. That's as good a reason as any in our book!
Where to rent a pool in Chicago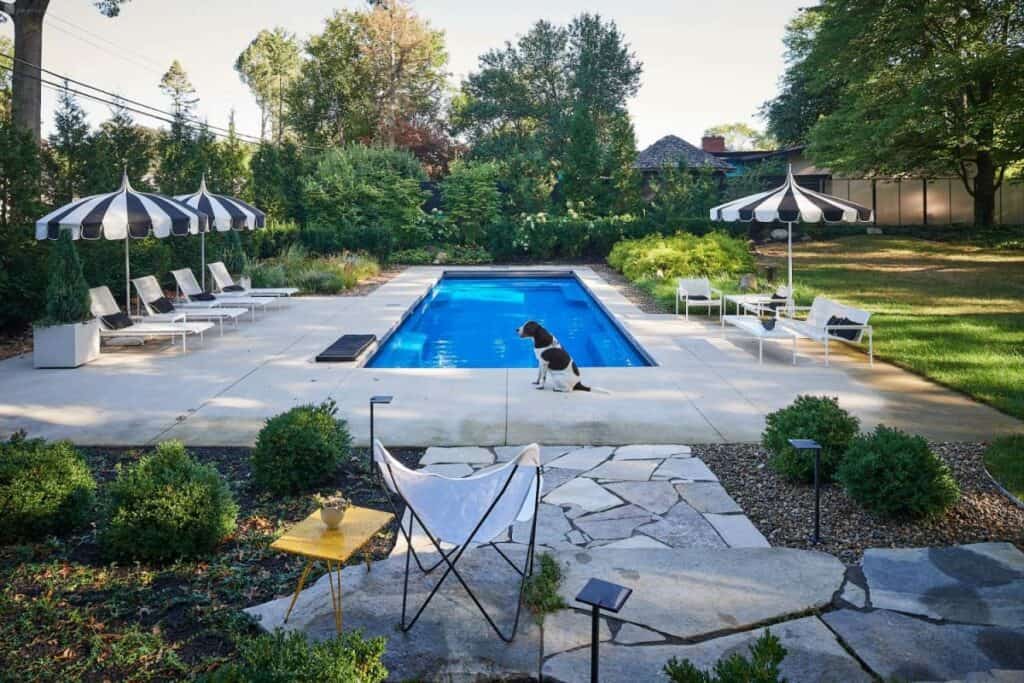 There are plenty of public pools to be found around the Chicago area. But when you need to rent a private pool, you might need to do a little more digging. Or at least, you would if it wasn't for Peerspace.
What's Peerspace? It's an online venue marketplace that allows you to rent spaces by the hour rather than overnight. You can use it to rent a space for as long or as short as you need, making it ideal for one-day events.
There are thousands of available venues in and around Chicago. And it's easy to find the ones with pool access with a quick search.
How to use Peerspace to rent a pool near Chicago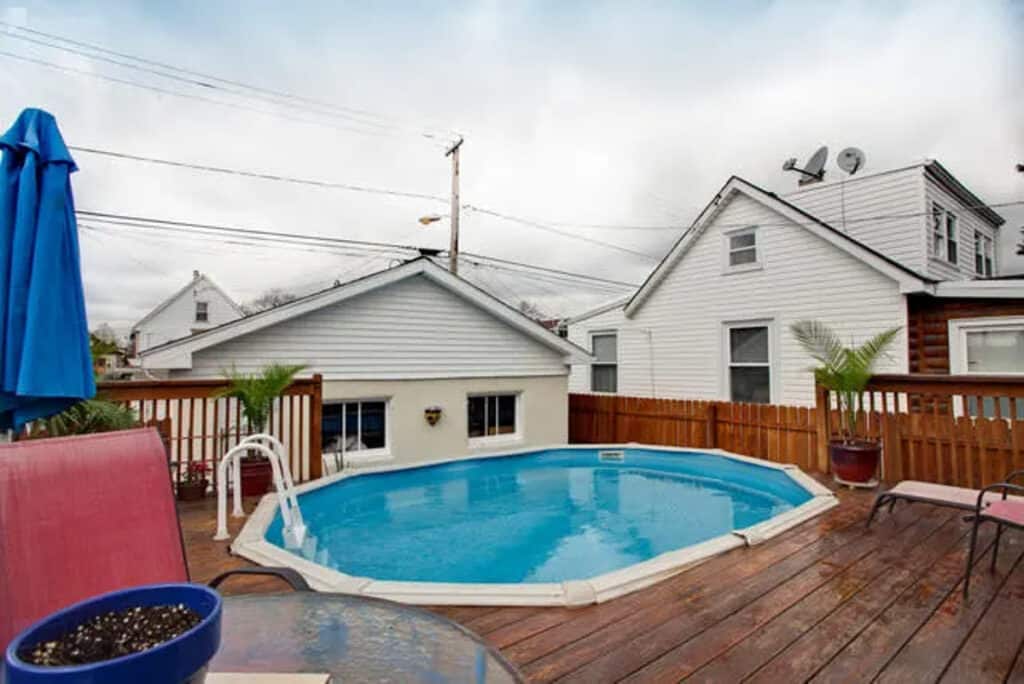 Trust us, it's super easy to find rentable pools near Chicago with Peerspace.
First, head to Peerspace.com. Then, tell us what kind of event you're planning and where you'd like to host it – Chicago, IL, in this case. Hit "search" and you'll get a list of available venues that you can rent out by the hour.
To only see venues with pool access, you'll need to play with the filters. Head to "more filters" "outdoor spaces" and select "pool". That should help you narrow down your search.
If you don't see what you're looking for inside the city, don't worry. If you're using the desktop site, you can zoom out on the map to widen your search radius.
What kind of pools can you rent near Chicago on Peerspace?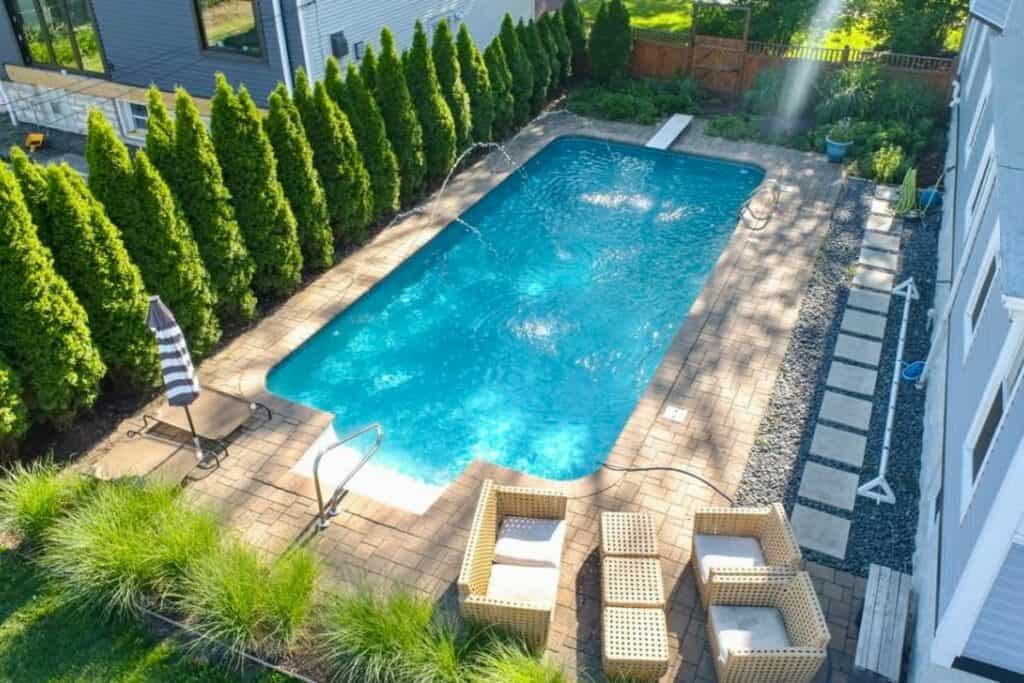 Now you know that Peerspace is the place to go for incredible pool rentals that you can book with ease. Next, here's a taste of some of the pools you can rent around the Chicago area with Peerspace:
An inground pool that's perfect for productions
Located in the West Side of Chicago, this gorgeous inground pool sits in the back of a historic Chicago home. The home was originally built in 1906 and can provide a photogenic backdrop for poolside productions. You can shoot swimwear photos by the pool, or relaxed lifestyle sessions lounging by the water.
You'll have access to the home's interior space, where you can take a break from the sunshine, or capture some indoor shots. It's an awesome photogenic location that blends the best of indoor and outdoor spaces.
A Suburban oasis designed with parties in mind
If you're up for a drive outside the Chicago city center, this suburban pool could provide an awesome location for outdoor events.
The pool and home sit on a 1.2-acre lot, giving you and your guests total privacy. In addition to the spacious inground pool, there are plenty of other goodies that can help you elevate your party. Including a hot tub, fire pit, zip-line, playground, volleyball net, bounce house, and yard games. In other words, it's pool party central!
This would be an amazing place to host birthday parties, gender reveals, baby showers, bachelor/ette parties, cookouts, or tons more outdoor activities.
An indoor pool for classes or seminars
Do you need to host a class or seminar at a pool, like private swimming lessons, or a lifeguard training session? This indoor swim school could do the trick.
The Swim School is home to a colorful indoor pool that's warm and welcoming for all ages. There's also a lobby perfect for PowerPoint presentations and a kid's play area for more poolside fun. And although the school is designed with educational classes in mind, it looks like an awesome spot to host a kid's birthday party!
To get here, you'll have to drive a bit if you're in the Chicago city center. But luckily, this pool sits near the major highways for easy access.
Still want more options? Here are a couple of more options within driving distance of Chicago:
How to rent a pool near Chicago: conclusion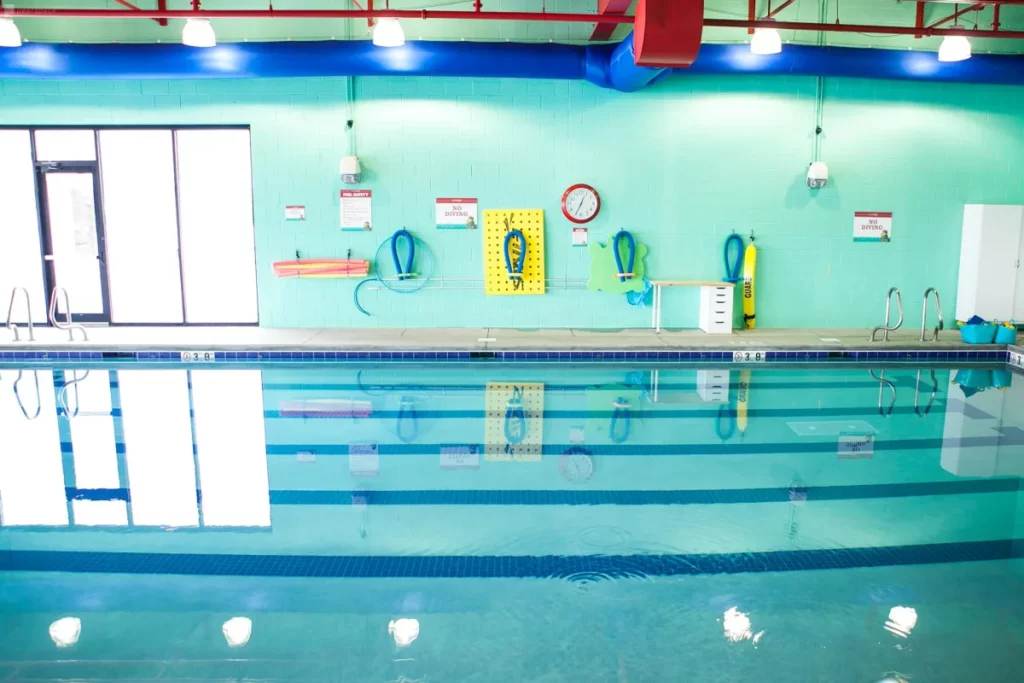 With Peerspace, it's easy and simple to find rentable pools in the Chicago area. Give it a try next time you're planning an event that requires a pool.
Oh, and one other thing. If you need anything delivered to your pool – like catering, extra tables and chairs, or production equipment, Peerspace has a dedicated concierge team that can accommodate nearly any request. If you need a cake for a kid's birthday party or lighting equipment for a photoshoot, they've got your back.
It's just one more reason why renting a pool with Peerspace is a no-brainer.