Looking to rent a pool near Dallas? Excellent; that's exactly what we at Peerspace want to talk about with you today! If you're excited about renting a pool for your upcoming party, event, or production, then we have the information you need. Here's how and where you can rent a pool near Dallas.
How to rent a pool near Dallas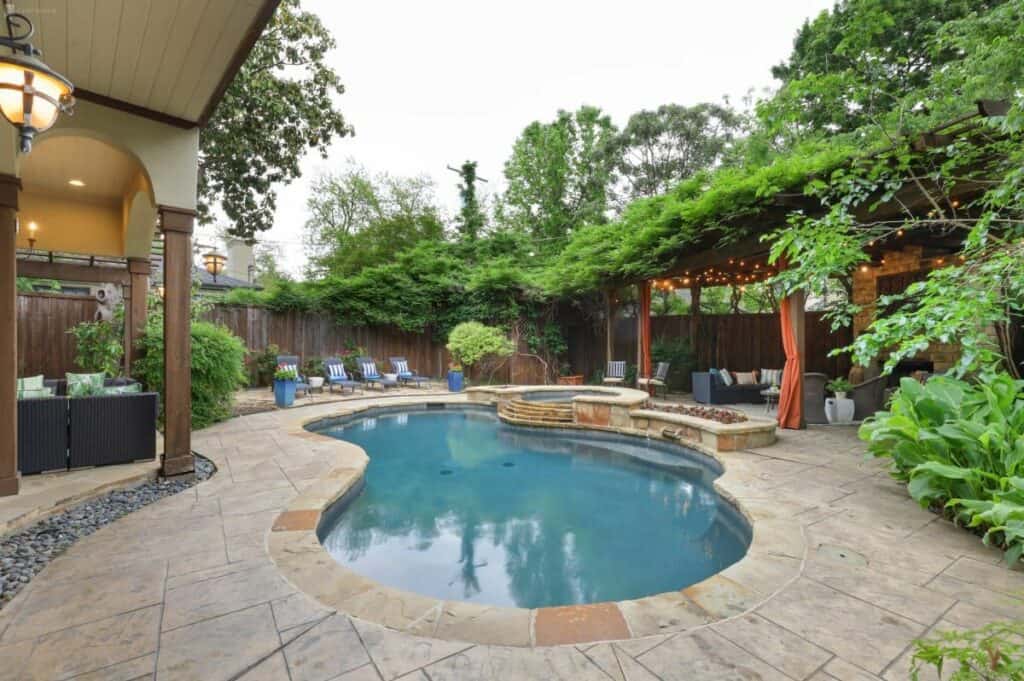 Interested in renting a pool near Dallas without having to pay for an overnight stay or hidden fees? With Peerspace, you can choose from a wide selection of rentable spaces in Dallas that are pay-by-the-hour with no hidden fees or obligations.
Simply type in your event or production type into Peerspace's search engine with your location and date details. From there, you'll be met with a ton of beautiful spaces, perfect for your needs!
To narrow down your selection to only include spaces with pools, click "more filters" and check the box for "pools" under the "outdoor spaces" heading. You can also type in specific needs under keywords — like heated or indoor pools!
Fantastic reasons to rent a pool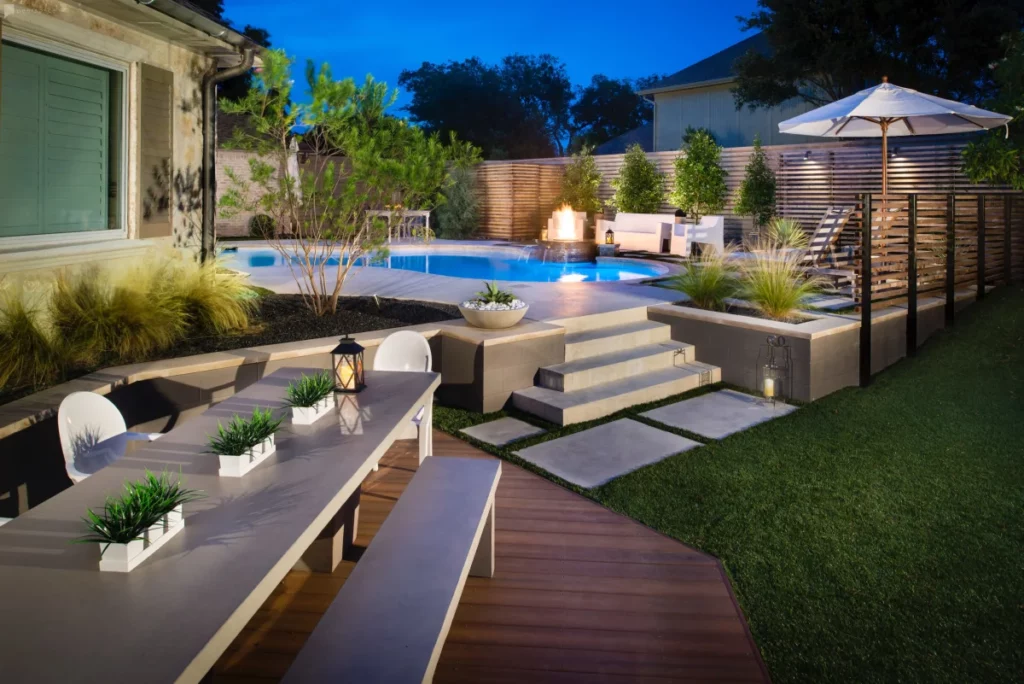 If you're planning for an upcoming event or production, a pool is an absolutely top-notch extra for your booking! Here are some ideas for how you can use a pool as part of your party or production plan: 
Unlimited fun at a kid's party
There's nothing quite like tuckering out your kids with an entire day of wild fun in the pool with friends. Renting a pool near Dallas for a kid's party not only ensures the kiddos will stay busy for hours on end, but it also gives you uninterrupted time to chat with friends and other parents during the party. Just remember to bring a variety of great pool toys or book a venue that comes with inflatables available for the kids to use!
Added style for a music video shoot
Using a pool in a music video shoot can achieve so many unique and amazing looks. Whether you are going for sultry vibes or filming an epic pool party, Peerspace can find the right location for the job! This includes spaces with gorgeous views and luxury home backdrops to add to your video's stunning look!
Nothing but relaxation for a bachelorette party
It doesn't get much better than pampering yourself by the pool with all your favorite girlfriends. And a pool venue isn't just the perfect spot to chat with the ladies and get a tan— you can also add in some amazing extras for the bachelorette party of a lifetime. For example, how about coordinating a poolside meal with the help of Peerspac's Concierge? The Concierge service can help you get custom quotes from high-quality caterers and have services delivered straight to your booking! Just about any other service can be coordinated too– ranging from hiring masseuses and aestheticians to pamper you and the ladies to A/V equipment for an epic poolside karaoke sesh! 
A stunning look for a photoshoot
Step up your photoshoot a notch by renting out a stunning pool venue for your shoot. Pool spaces are a great way to show off the waterproof capabilities of products, give off sultry vibes in photos, or portray a raw look. If you are looking to find an amazing photographer for your shoot— Peerspace can help with that too! Check out these amazing editorial photographers in Dallas or ask Peerspace Concierge to help you book another type of photographer in the Dallas area.   
Amazing pool rentals near Dallas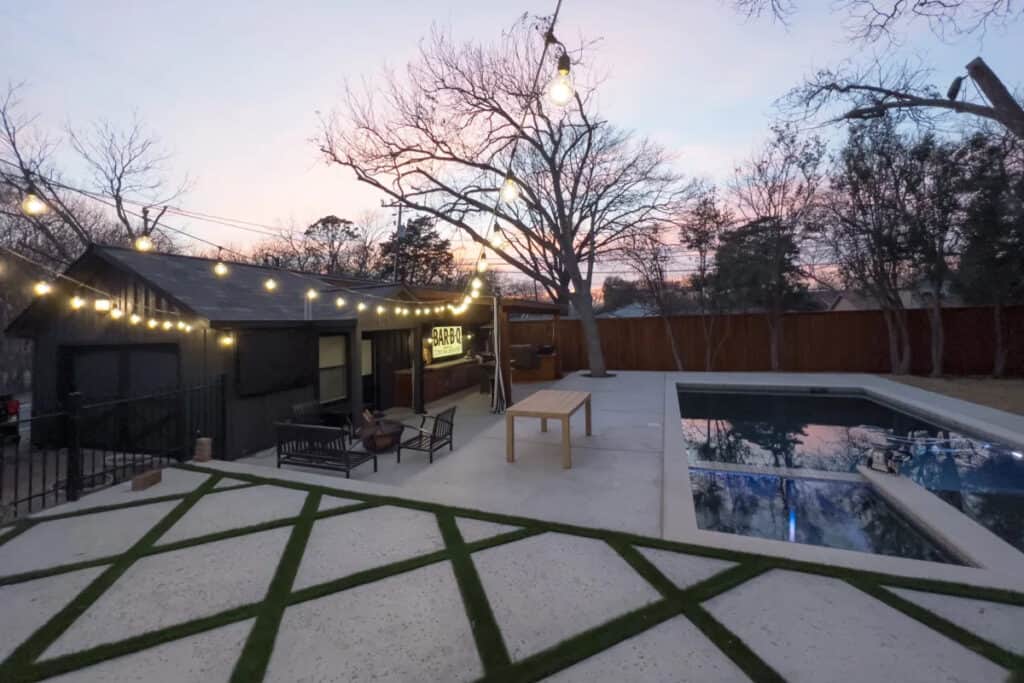 Enough talking — let's get to booking! Here are a few of our favorite Peerspace rental pools in Dallas:
This space (pictured above) offers much more than just a pool for your photoshoot — it also offers amazing historic vibes inside and out! The home itself is a Great Nationally Registered Historic Home in the heart of Waxahachie, Texas.
As part of your booking, you have access to the 3,500 square foot home, expansive front porch, and large backyard featuring — you guessed it, a beautiful pool and hot tub! If you are in search of other water-themed photoshoot ideas, don't forget to check out the clawfoot tub inside the home too!
Be careful when you book this space — your kids might start incessantly asking to come back to this beautiful urban oasis for all their future birthday parties too! This gorgeous modern pool is situated on an acre lot with plenty of space for the kids to play and parents to watch from a distance, keeping cool under the beautiful and newly built pergola.
The space also features an adorable covered patio with a swinging twin-sized bed, in case any little ones get tired before the party's over!
Dallas has plenty of luxury pool spaces, perfect for a high-class music video! For example, check out this beautiful modern Tudor home in Greenland Hills.
When you book this venue on Peerspace, you'll not only have access to the gorgeous outdoor pool surrounded by luscious greenery — but also feel free to film within this home's expansive interior!
This space is absolutely ideal for an unforgettable bachelorette party! The pool comes with a diving board and three waterfalls as well as a water basketball goal. After lounging in the pool, enjoying eating in this space's grill area, or soaking in the sun on the lounge chairs! And if you don't have your own pool floaties, go ahead and rent them from the host under add-ons. These hosts even offer a bull riding pool float!