If you are looking to rent a pool near Austin, here's all the information you need to get started! We've broken down how to rent a pool space, what you can use the space for, and a few of our favorite rentable pool spaces in the Austin area. Let's check it out.
How to rent a pool near Austin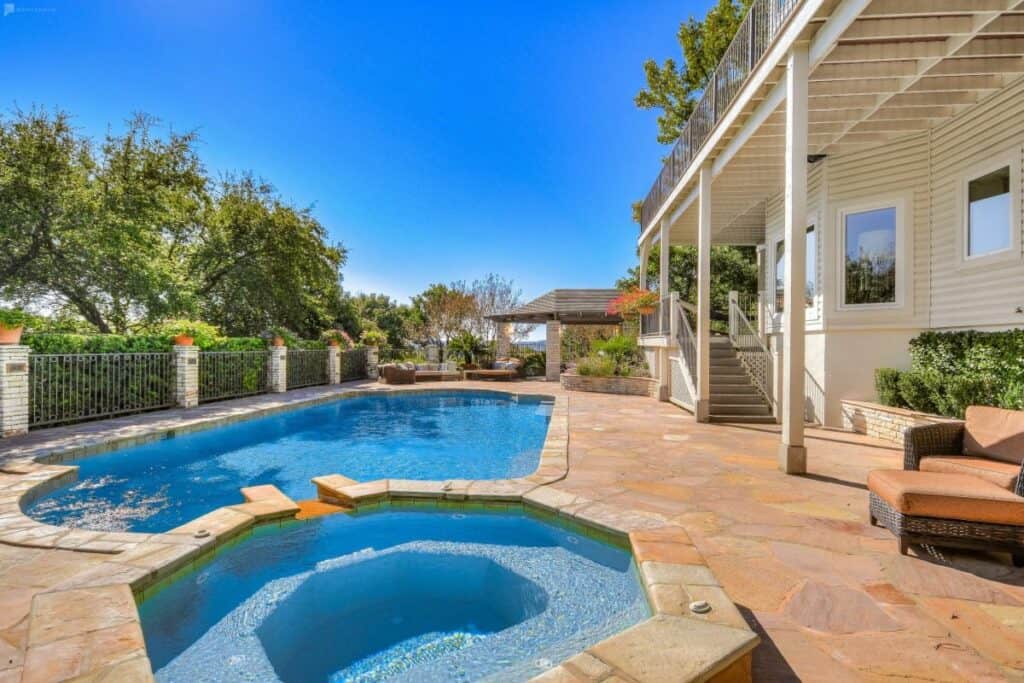 Curious as to the best way to rent a pool near Austin? Peerspace makes it easy. Peerspace is the go-to platform for finding reliable event, photoshoot, and video production spaces around the U.S. All you need to do is go to Peerspace.com, type in the type of event or production you are planning, and your location.
From there, sort through tons of great spaces in the Austin area. Narrow down your search to spaces with pools by using the "more filters" button on the top left of the screen. Then, filter by "pool" under the "outdoor spaces" heading. You'll find your perfect pool rental space in no time!
How a pool makes your party more fun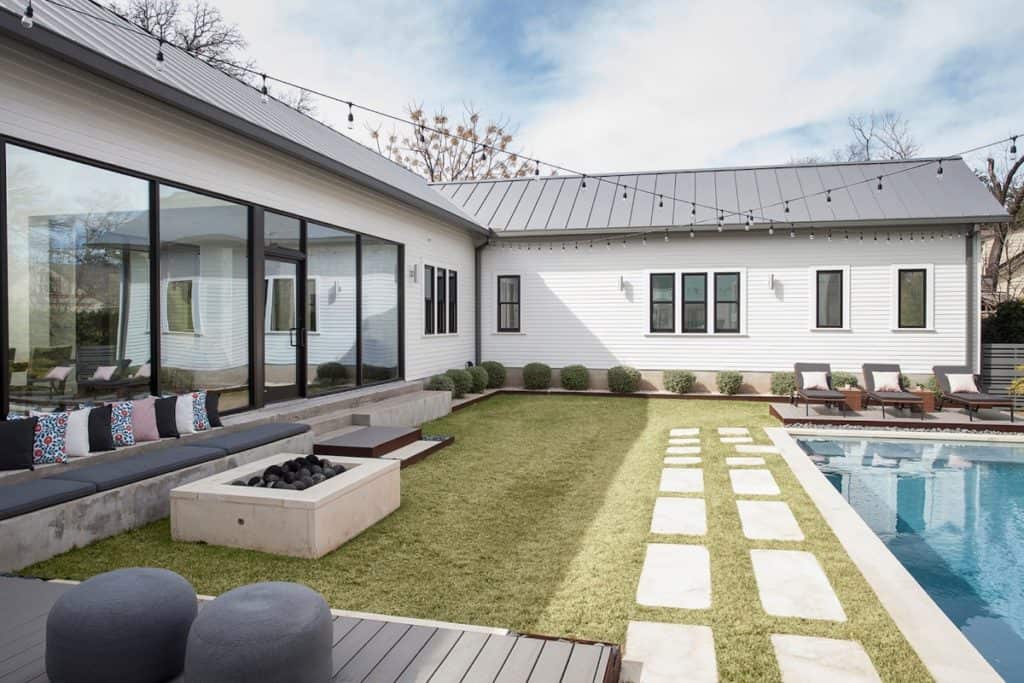 Regardless of the reason for your celebration, a pool will bring your party to the next level! Here are a few different reasons you might want to consider turning your event into a pool party:
A reprieve from the hot Texas sun
It's a terrible feeling when you are enjoying yourself at a party but you can't stop thinking about the sweat running down your forehead or peeling your legs off a hot, sticky chair.
Avoid the awkward moments, overheating, and copious sweating with a quick dip in the pool! A pool party is an amazing way to keep the fun rolling even when the weather's boiling hot. 
An easy way to entertain the kids
Keeping kids entertained isn't always the easiest of tasks — until you add a pool into the festivities! A pool party is a great way to keep the little ones occupied for hours on end.
Especially if you rent a Peerspace with plenty of pool toys and a large yard to run around in. It's also worth looking into a venue that has plenty of tables and chairs for opening presents, eating food, and of course, diving into the cake! 
A great excuse to spend more time with friends
You know that awkward moment after eating a meal with friends or finishing an activity together where you aren't sure whether to stay or go? The "end" of your time together can be hard to gauge — unless you have a pool party, that is!
Hanging out in the pool is a great way to keep everyone engaged, having fun, and chatting for hours. Because let's be honest — nobody wants to stop hanging out at the pool!
Beyond the party: reasons to rent a pool near Austin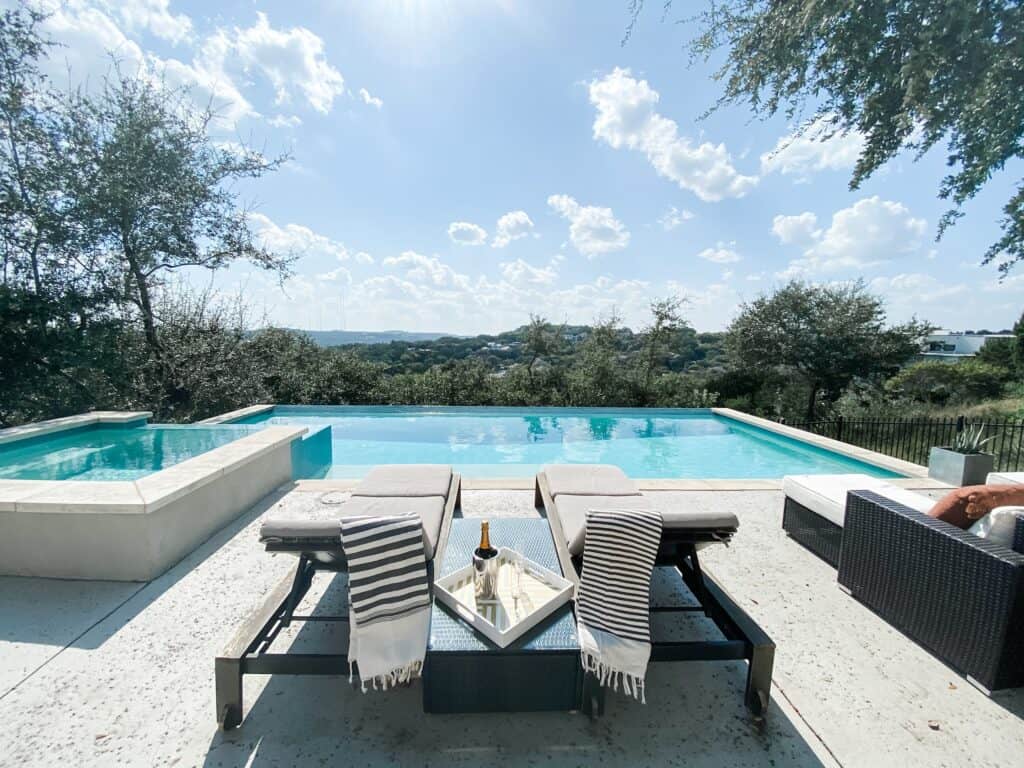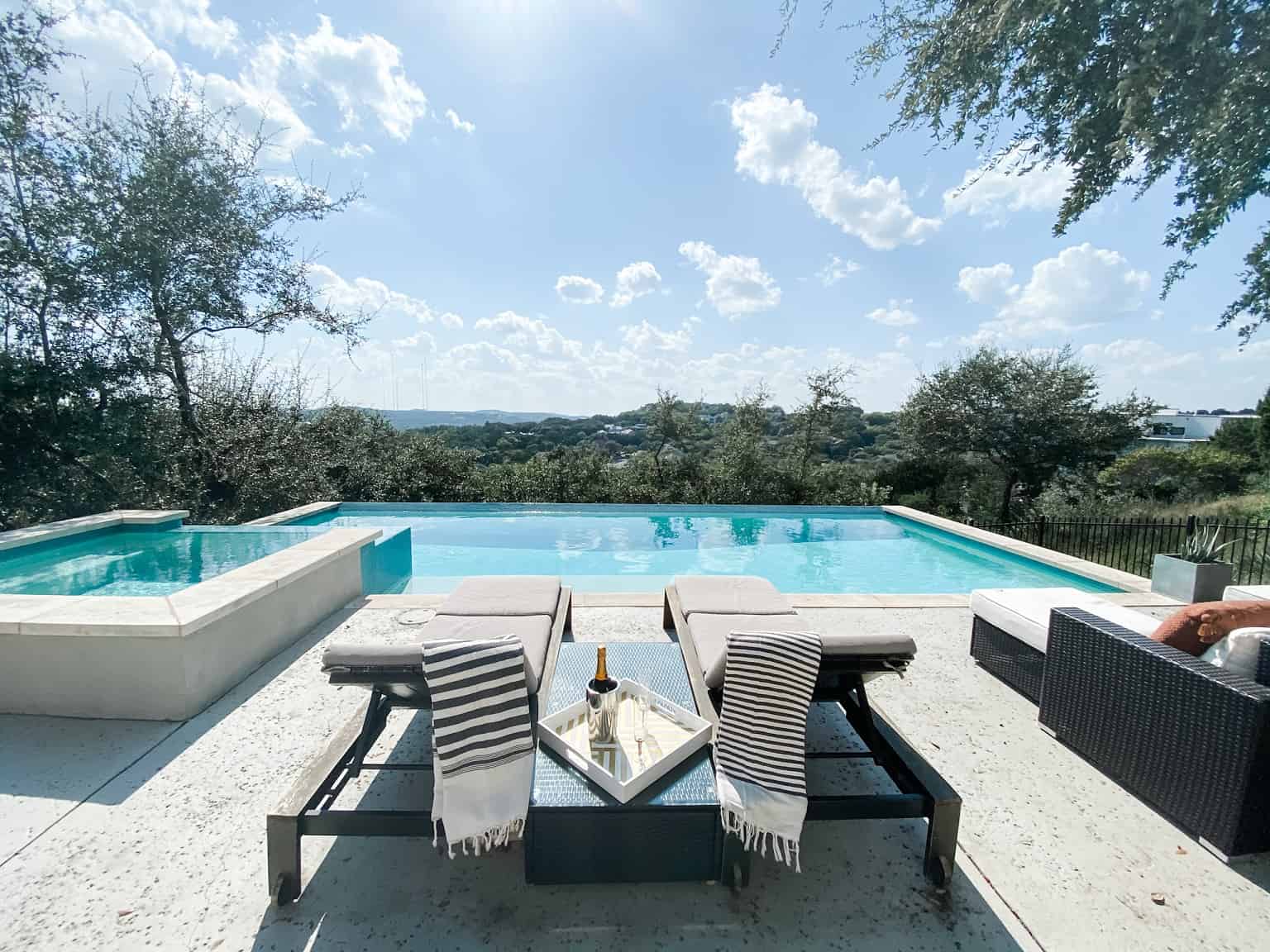 Parties aren't the only reason to rent out a pool near Austin! Venues with pools can be ideal for photo and video shoots, as well.
For example, an infinity pool with a view could be just the backdrop you need for a stand-out shoot. Or how about a pool surrounded by lush greenery, trees, and flowers? A style like this could add a really exotic look to any shoot!
For a few other pool types and ideas for how to use them in a pool photo or video shoot, check out this article. 
Amazing Peerspace pool rentals near Austin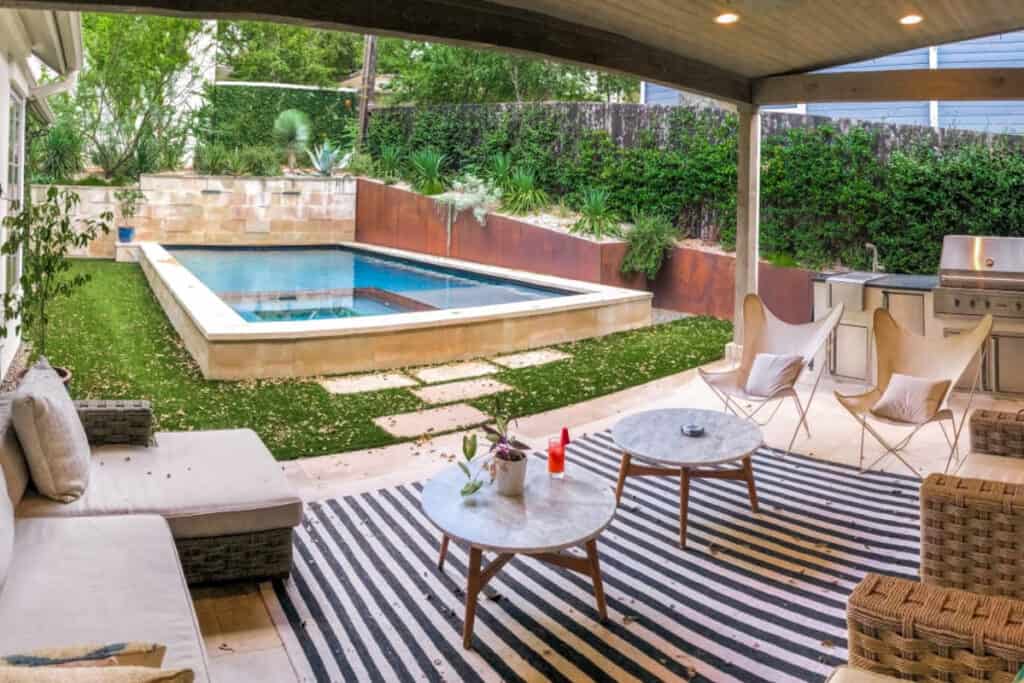 Now you know how to rent a pool space and what to use a pool space for. So let's discuss the exacts of where to rent a pool near Austin! Here are a few of our top picks for pool rental locations in the Austin area:
Your pool rental should include a lot more than just a cement encrusted hole filled with water. When you rent a pool with Peerspace, you'll be blown away with everything included with your pool rental.
Like this Lago Vista property that comes with a jaw-dropping infinity pool, full access to a luxury five-bedroom /six-bathroom home, and two acres of property to explore. Surprised this can all come standard with a Peerspace pool booking? We told you you'd be blown away!
Hoping to stay close to downtown Austin for your pool party or production? No problem! On Peerspace, you'll find pool spaces in just about any location you look for them. Like this fun pool space and home in Old West Austin!
The outdoor area includes a covered lounge with an outdoor kitchen overlooking the pool and spa. Feel free to enjoy the indoor space with this booking as well! Inside you'll find two great rooms, a state-of-the-art chef's kitchen, and floor-to-ceiling windows letting in a wealth of natural light.
3. Book a backyard oasis for unlimited outdoor fun
If you're looking to rent a pool near Austin that comes with plenty of space to spread out and enjoy a variety of outdoor activities, then look no further than this gorgeous East Austin Oasis! This dreamy space comes with a stone patio, grill, smoker, pool, and plenty of space for yard games, tables, and more.
"We had a great time out here. It was perfect for our group of 30 or so to just relax and hang out," said one Peerspace reviewer. "Plenty of room to play multiple lawn games, hang in the pool, and places to sit. We will definitely be back!" See all the pictures and read more reviews for this venue on Peerspace.
While Peerspace offers the most jaw-dropping luxurious pool options for your shoot or event — you can also find amazing pool spaces for smaller budgets!
Like this Windsor Hills pool venue that you can rent for just $55 an hour. This space is perfect for a laid-back BBQ or a kid's birthday party. You can even add on fun extras like floating pool globe lights or a movie screen and projector!