Looking for fun and adorable Minnie Mouse party ideas? Then you've come to the right place! Minnie Mouse has been an icon since her and Mickey's on-screen debut in 1928. Her classy style and sweet personality make her a fan favorite among Disney fans, young and old.
To celebrate your love of Minnie, we've put together 12 adorable Minnie Mouse party ideas sure to be a hit. These party ideas would be even more special if you host at an aesthetic Peerspace venue that captures Minnie's unique sense of style. 
1. Host a Minnie Mouse dress-up party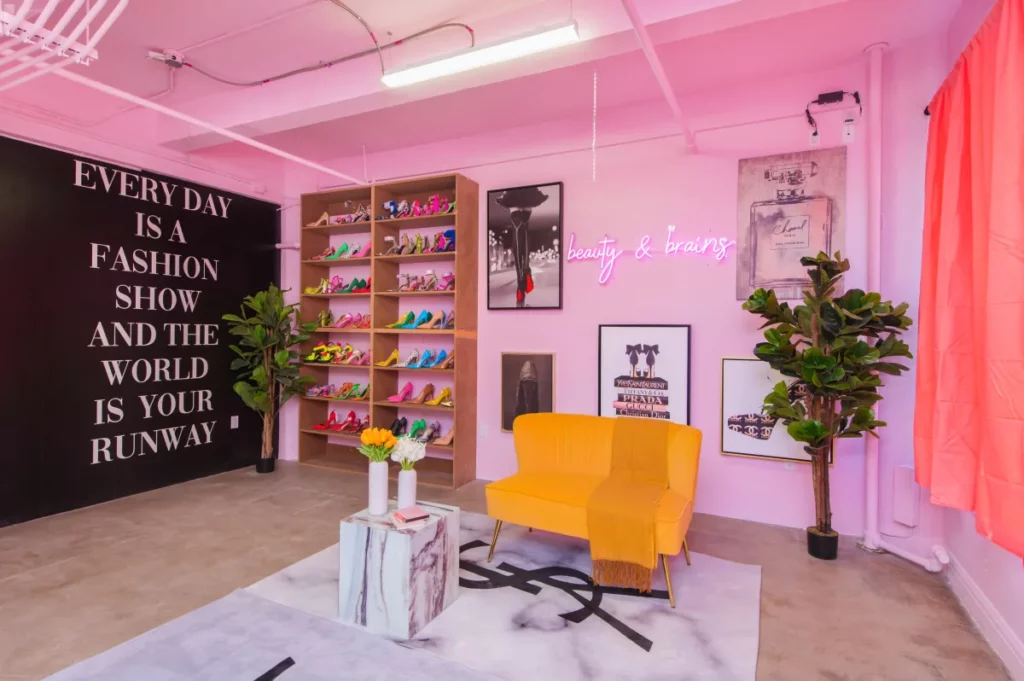 Minnie's rocked plenty of amazing looks over the years, from her signature polka dot dress to her new pantsuit. Pay homage to Minnie's sense of style at your party by asking guests to come dressed up in Minnie-inspired outfits. For added fun, you can hand out a prize to the best-dressed guest, like an accessory from Minnie's "Rock the Dots" line. 
Your gorgeous outfits can shine even brighter at an adorable Peerspace venue, like this chic couture room in Los Angeles, CA. 
Your little one may also love our 11 adorable princess birthday party ideas!
2. Watch Mickey and Minnie cartoons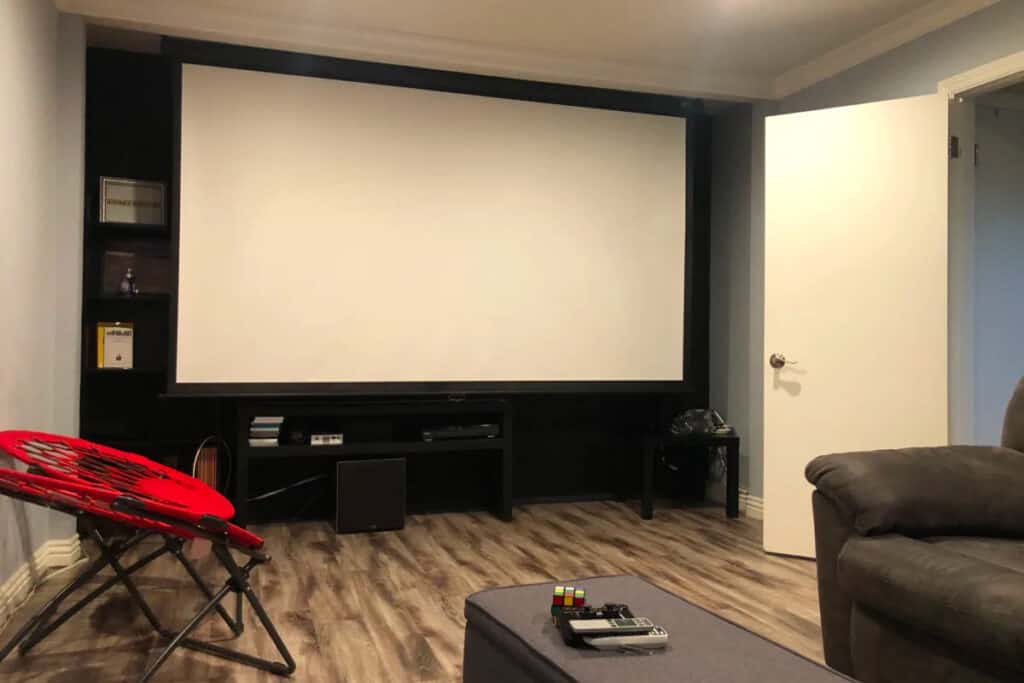 Looking for more lowkey Minnie Mouse party ideas? Pop some popcorn and watch your favorite Mickey and Minnie cartoons on the big screen. You've got over 90 years of material to choose from. From classic cartoons like Steamboat Willie to the modern Mickey shorts. You can ask the Peerspace Concierge service to help you out with a projector at your venue, or even better – host your party at a Peerspace venue with a cozy home theater, like this modern home in Los Angeles. 
3. Set up a Minnie Mouse balloon arch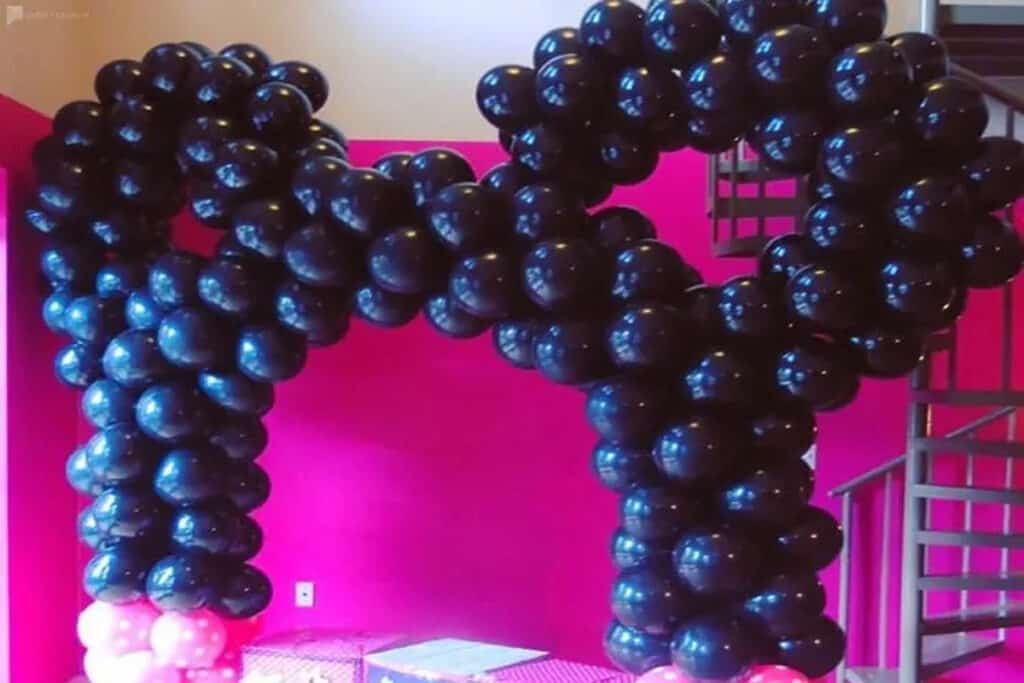 What party is complete without balloons? Bring Minnie's iconic silhouette to your party decor by setting up a Minnie Mouse balloon arch, like the one at this pink Atlanta event space. You can also ask the Peerspace Concierge service to help you out with balloons or helium, or ask them to lend a helping hand with setting up the arch at your venue. 
4. Decorate Minnie-themed sweets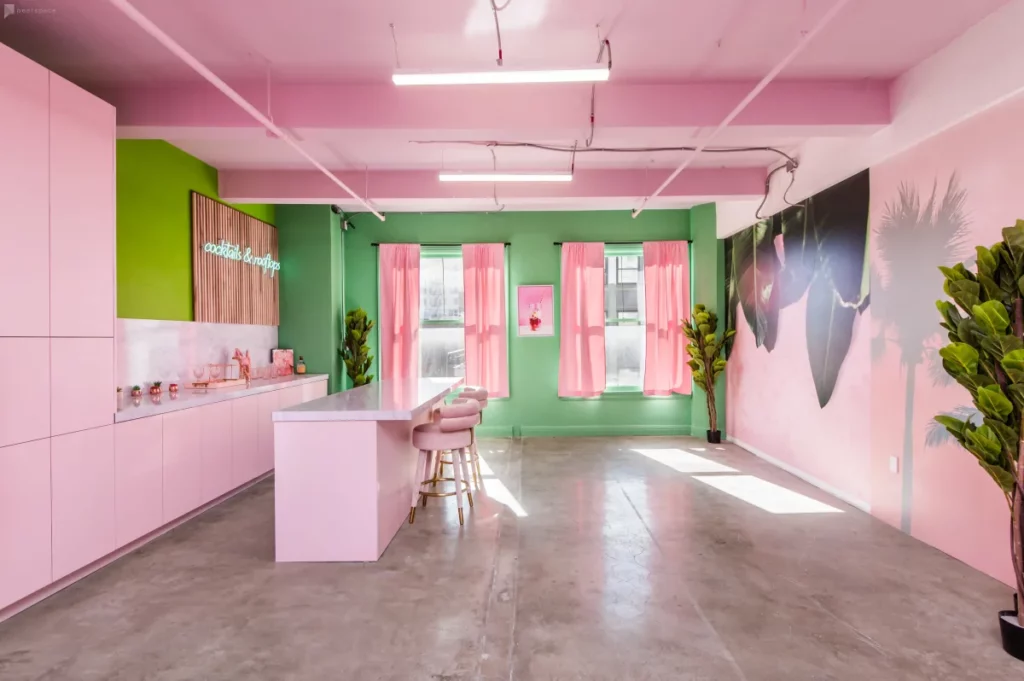 No trip to Disney is complete without some Mickey or Minnie-shaped treats. Bring these delicious mouse-inspired treats to your party. The internet is full of Minnie Mouse dessert ideas, like cupcakes, cookies, rice treats, and more. Pick your favorites and whip them up for your party food. Baking and decorating would be even more fun at a fashionable pink Peerspace kitchen.
Keep the pink theme going with these fun pink photoshoot ideas!
5. Soak up the sun at a Minnie-themed pool party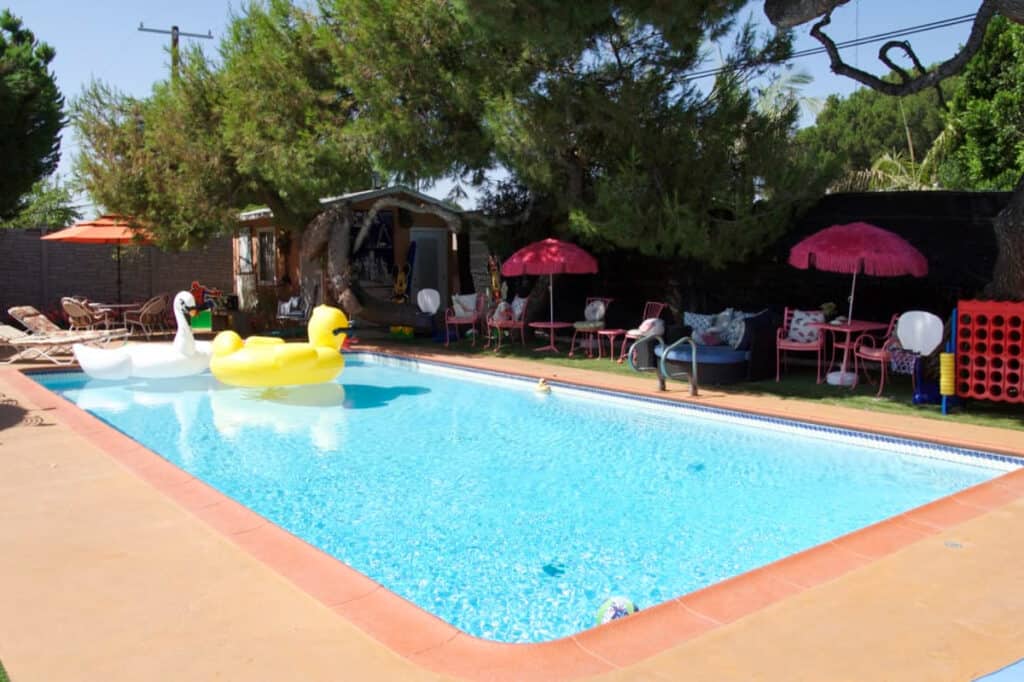 Here's a great Minnie Mouse party idea for warmer months. Grab a polka dot swimsuit and head to the pool to enjoy some Minnie-themed fun in the sun. You can keep the day on theme with some Mickey and Minnie pool toys, or by hosting at a stylish Peerspace pool. Mickey and Minnie even make an appearance in cardboard cutout form at this Hollywood pool. 
6. Minnie-themed photos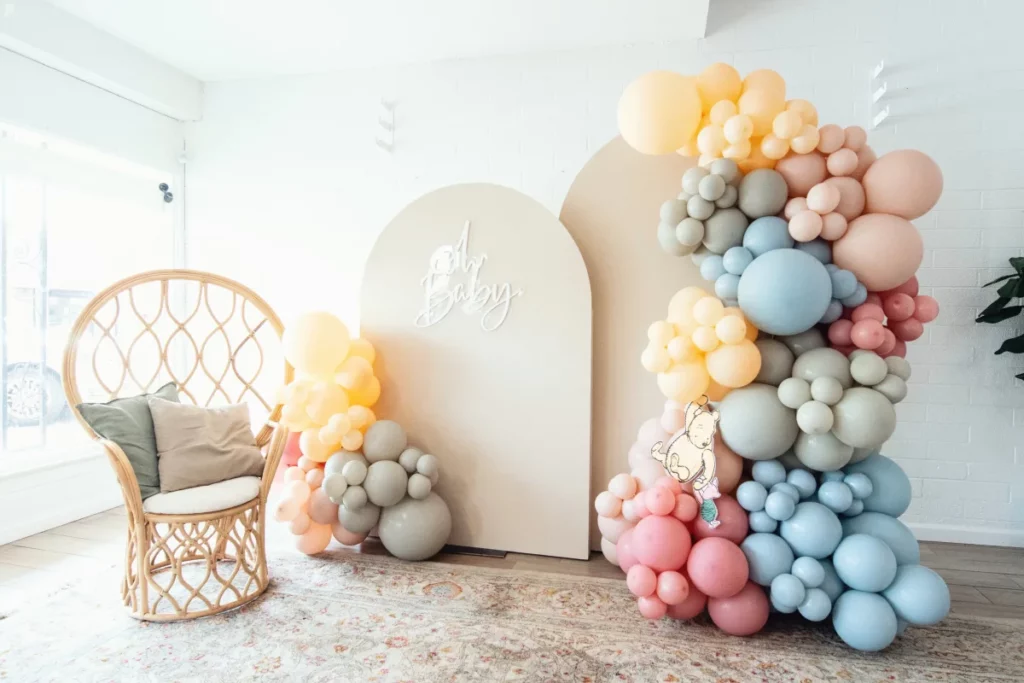 Want to snap some adorable photos of your little one to celebrate their big day? Stage a Minnie-themed photoshoot before the party. Keep an eye out for photogenic Peerspace photo studios that double as party venues, like this natural light event space in Scottsdale, AZ. The bright colors and neutral colors will make any Minnie-themed decor pop. 
Our 13 fun Mickey Mouse photoshoot ideas can complement your Minnie shoot, too!
7. Kingdom Hearts-themed party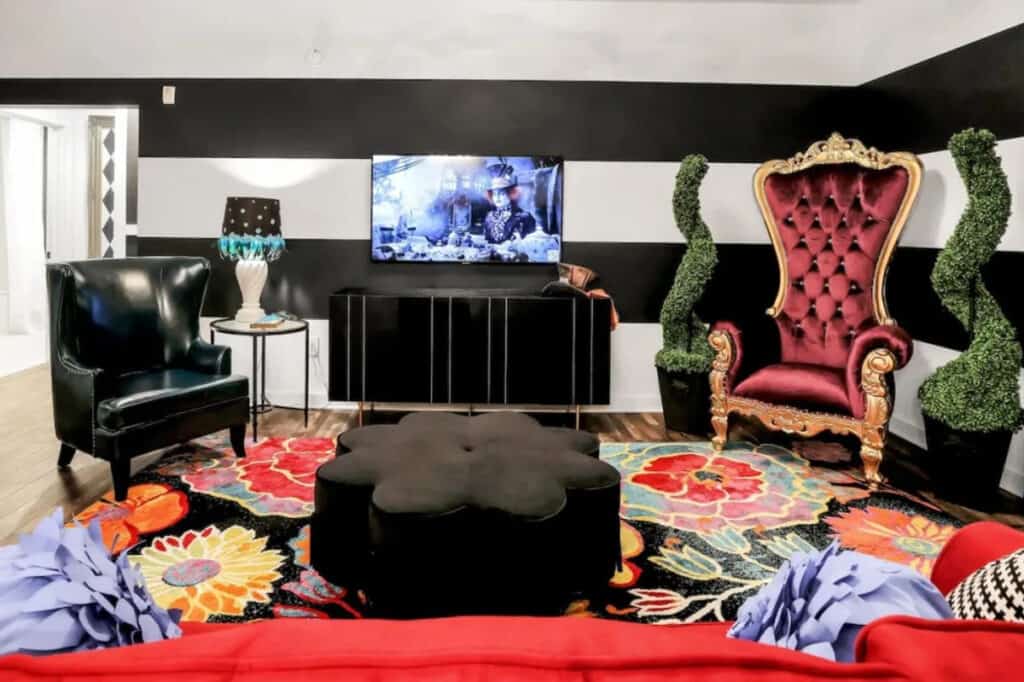 Kingdom Hearts combines Disney lore with Final Fantasy-style gameplay. Minnie makes an appearance as a queen in several entries. If your child is an avid Kingdom Hearts fan, why not host a Kingdom Hearts-themed party with a heavy focus on Minnie and Mickey? 
You can set the stage with a whimsical Peerspace venue, like this wonderland event space in St. Augustine FL. It's an amazing Minnie Mouse party idea for older kids or adult Kingdom Hearts fans! 
8. Sip tea at a Minnie-themed tea party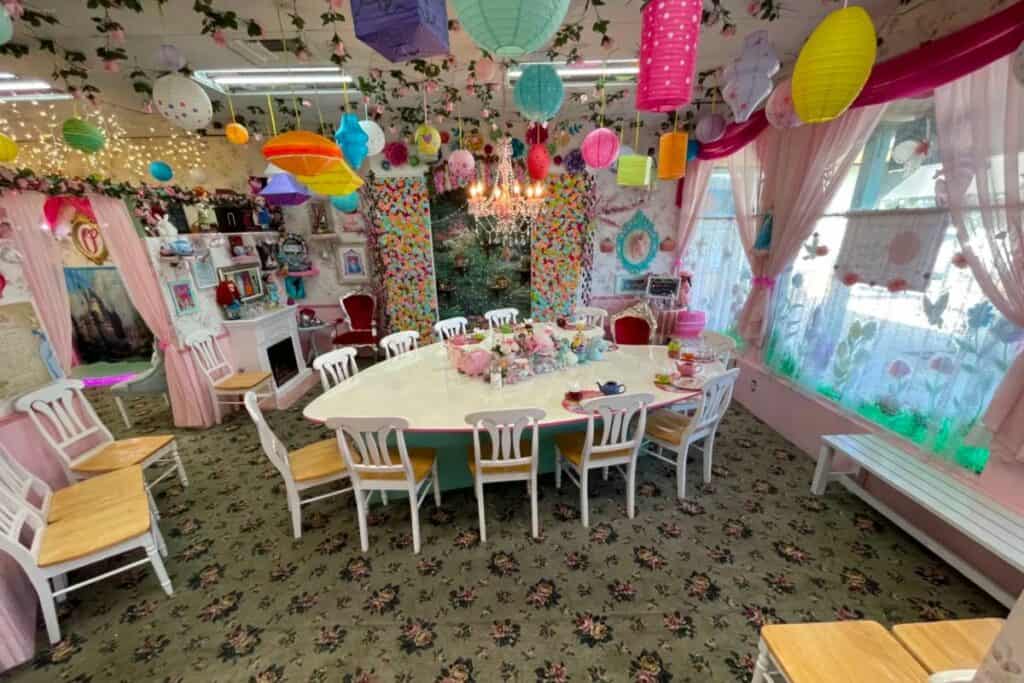 Tea parties are one of the most adorable events out there. When you combine a cute tea party with Minnie Mouse treats and decorations, you're in for a cuteness overload. Oh, and if you're looking for an amazing spot to host, this enchanting tea room in LA is full of Disney decor, making it perfect for Minnie fans. 
9. Craft DIY Minnie ears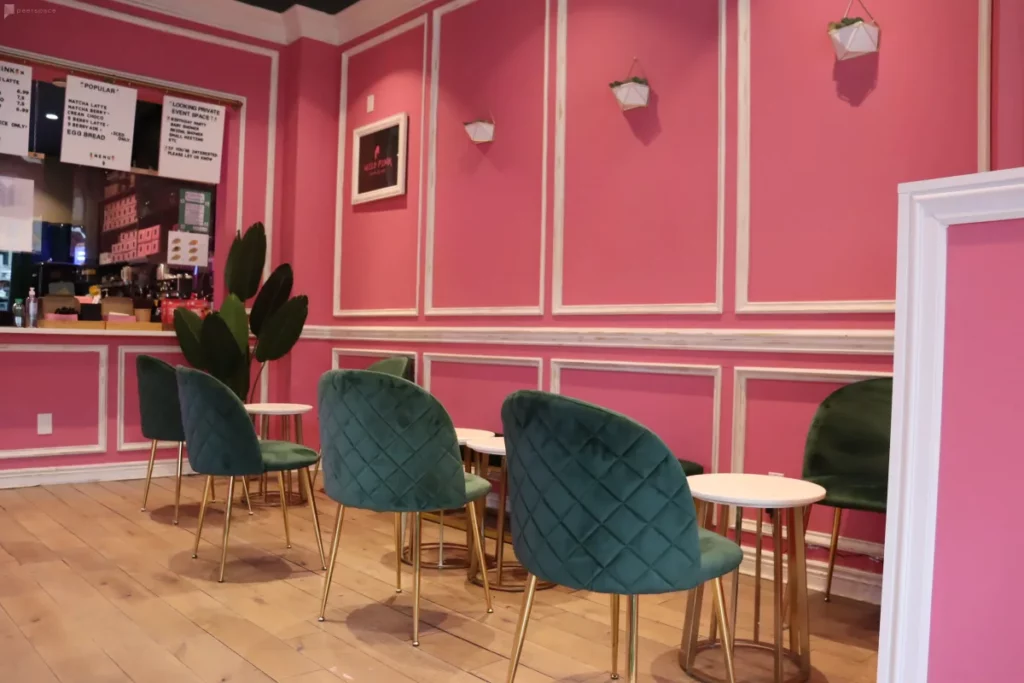 Minnie ear headbands are the quintessential accessory for a Disney trip. Put your own spin on this classic accessory by setting up a crafting station where guests can make their own Minnie ears. You don't need much in the way of materials–just fabric, ribbons, accessories, glue, and, of course, a headband.
If you need a space to let inspiration flow, this cute pink cafe in Palisades Park, NJ, has plenty of tables and chairs with room to craft. 
10. Enjoy a Minnie mouse cake smash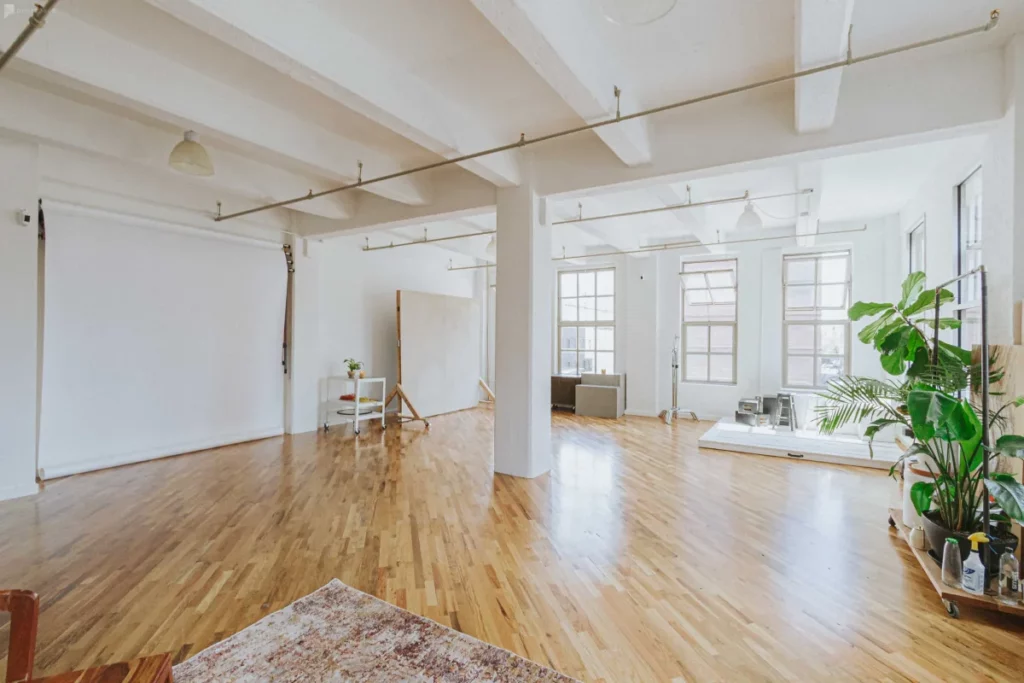 Here's an adorable Minnie Mouse party idea for babies and toddlers. Decorate a Minnie Mouse-inspired cake, then let your little one have at it as a smash cake. You could also dress them up in Minnie ears or a bow to complete the theme. 
It's an adorable way to celebrate your little one's birthday and let them have a taste of some delicious Minnie treats. Make the backdrop picture-perfect by hosting at an airy Peerspace venue, like this Brooklyn loft. Just make sure you lay down some colorful paper beforehand for easy cleanup. 
Find more of our cake smash photoshoot ideas here!
11. Minnie Mouse dance party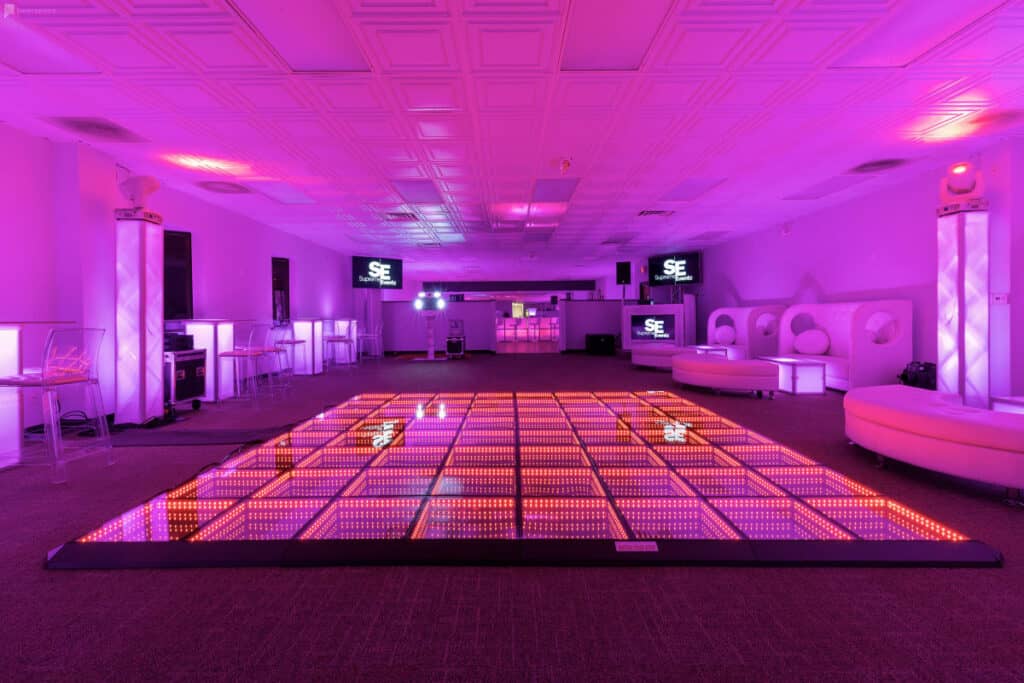 Does your little one love to dance? Fire up some Mickey and Minnie dance music from Disney junior and encourage everyone to dance at the party. Peerspace venues with a dance floor set the perfect stage for private dance parties, like this magical event space in New Jersey. 
If you want to go the extra mile, you could even hire a costumed Minnie Mouse to dance with the kids.
12. Minnie princess party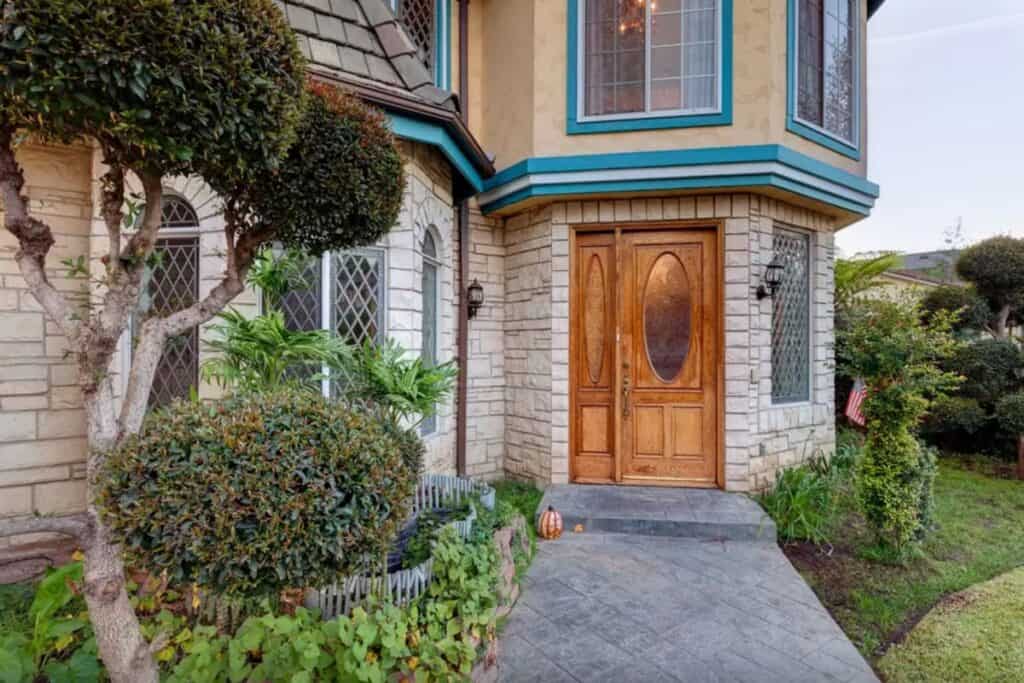 Who says Minnie Mouse doesn't count as a Disney princess? Channel your inner royal and host a Minnie-inspired princess party for your little prince or princess. 
If you really want to take things to the next level, you can host at an IRL castle, like this Victorian abode in Arcadia, CA. The home reminds us of Sleeping Beauty's castle at Disney Land. And you'll get to have it all to yourself for a day of magic when you book on Peerspace.