Looking for epic Among Us party ideas? We've got you!
Among Us took the internet by storm in 2020. Kids and adults alike love this mafia-inspired space game where players work together to "sus" out the imposter. And the only thing more fun than venting after a successful kill? Throwing an epic Among Us-themed party for all your friends and family. If you need inspiration for your big event, we've got a few ideas. Here are 13 awesome Among Us party ideas, courtesy of Peerspace. 
1. Decorate with spacey decor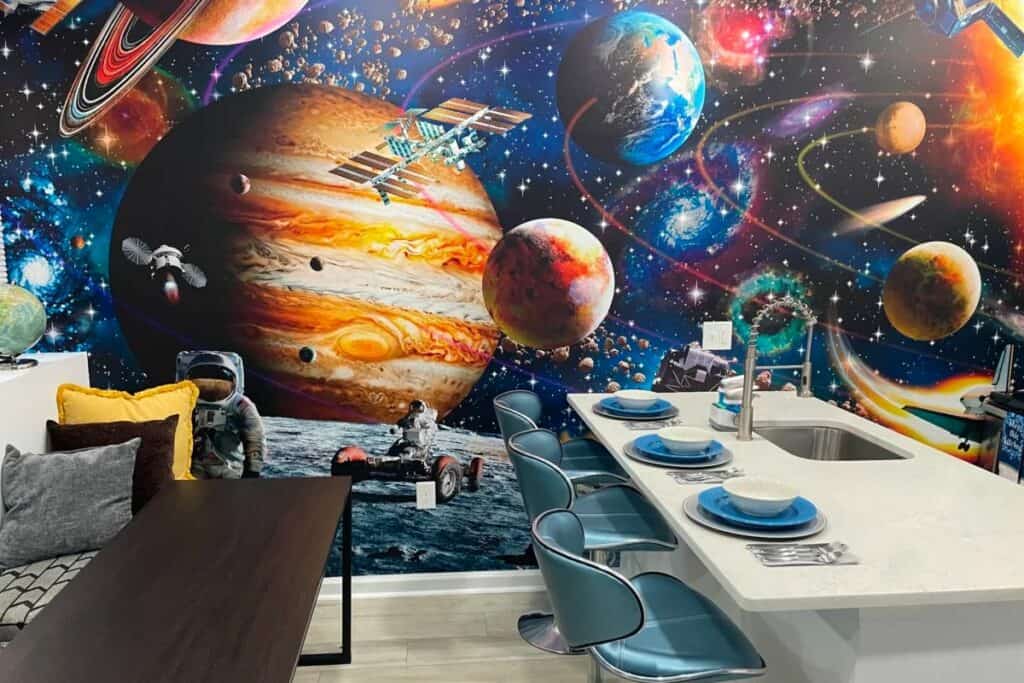 First things first, it's time to set the stage for your Among Us party. Decorate with Among Us-themed party decorations, like banners, balloons, and cutouts of the crewmembers.
If you don't want to make your decor too literal, you could go more abstract with spaceship-inspired decor. You could also host at a spaced-out Peerspace venue, like the Outer Space Place in Philadelphia, PA. 
Look the spacey look? Take it a step further by utilizing our 13 funky glow party ideas and light up the night!
2. Play Among Us IRL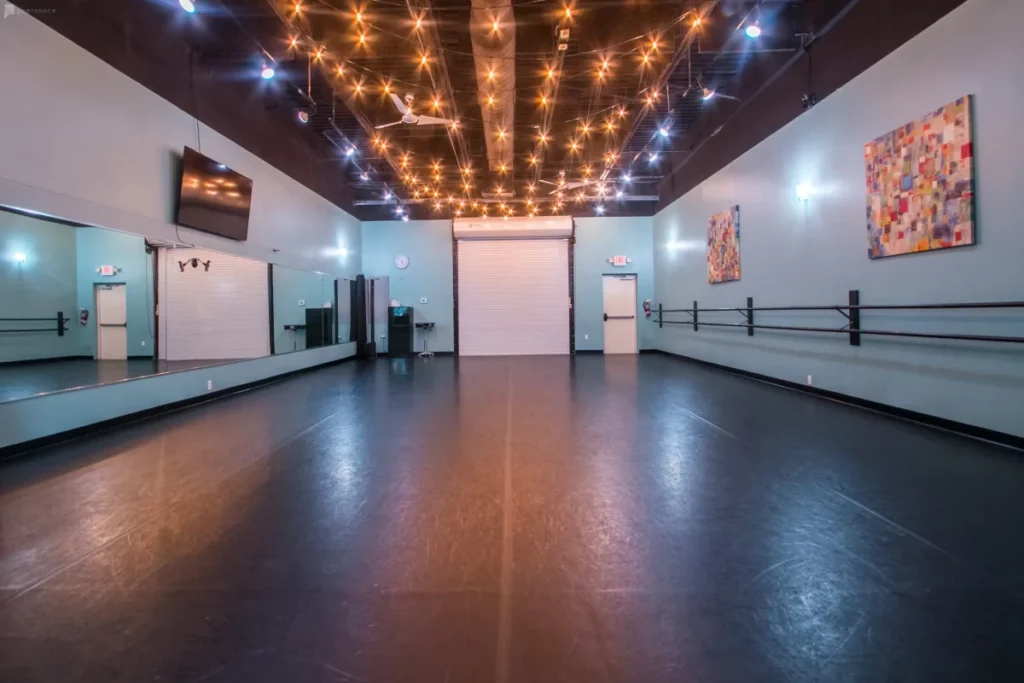 At an Among Us-themed party, playing the game is essential. But if you want to make things extra epic, play the game IRL.
You can find rules and themed printables for an Among Us party game here. Some of the fun tasks for crew members include clearing asteroids with a nerf gun and solving printout mazes. Can everyone complete their tasks before the imposter wins? Only one way to find out!
If you need a spot to host, keep an eye out for spacious Peerspace venues, like this party space with starry twinkle lights in Orlando.
3. Play Hide and Seek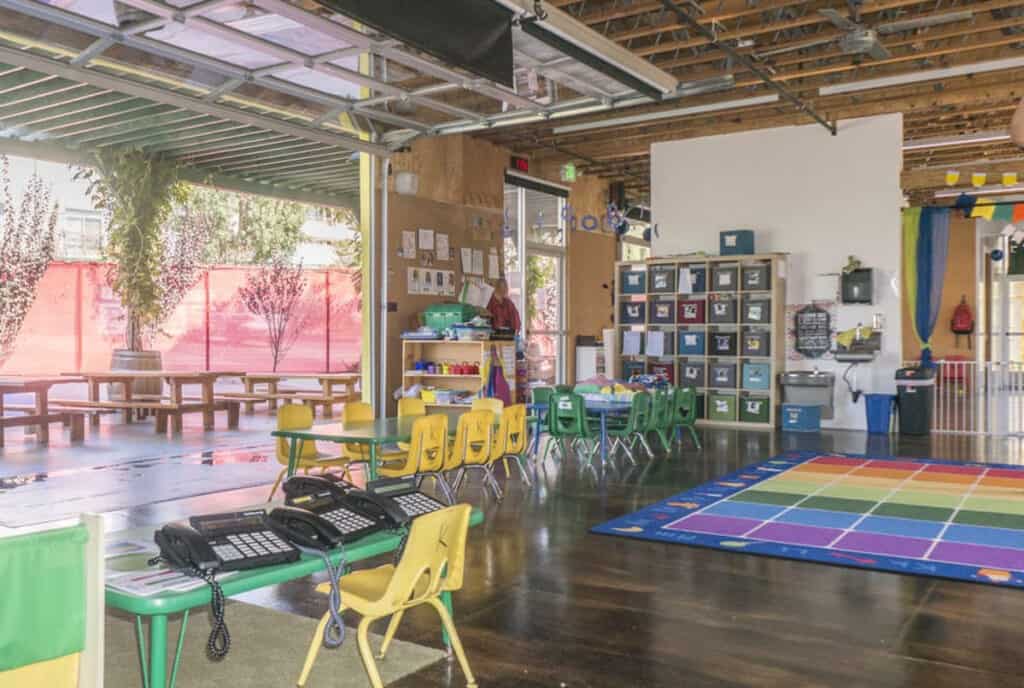 Hide and Seek is a popular variant of Among Us, where everyone knows the Imposter's identity from the start. Players rush to complete their tasks, then hide to avoid being turned into a crewmate sandwich.
Keep the IRL fun going at your Among Us party by having kids play hide and seek at the party venue. Venues with plenty of nooks and crannies make the perfect place to play, like this kid's play area in Los Angeles. 
Is it your little one's big day? Then don't forget to check out our 11 fun kids birthday party ideas!
4. Bake an Among Us cake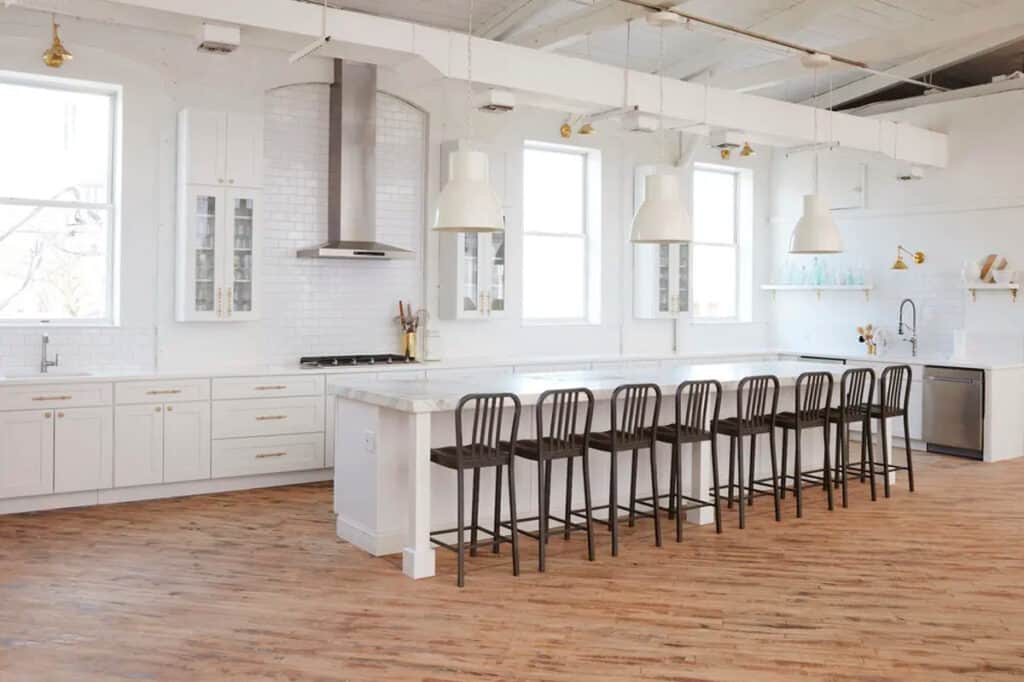 No party is complete without a cake. And your Among Us party calls for some extra special treats. You could ask the Peerspace Concierge service to connect you with a local bakery or bake a delicious cake yourself using Among Us cake toppers and decorations.
If you want an awesome spot to test your culinary skills, a Peerspace chef's kitchen is a great place to fulfill your baking task.
5. Decorate Among Us cookies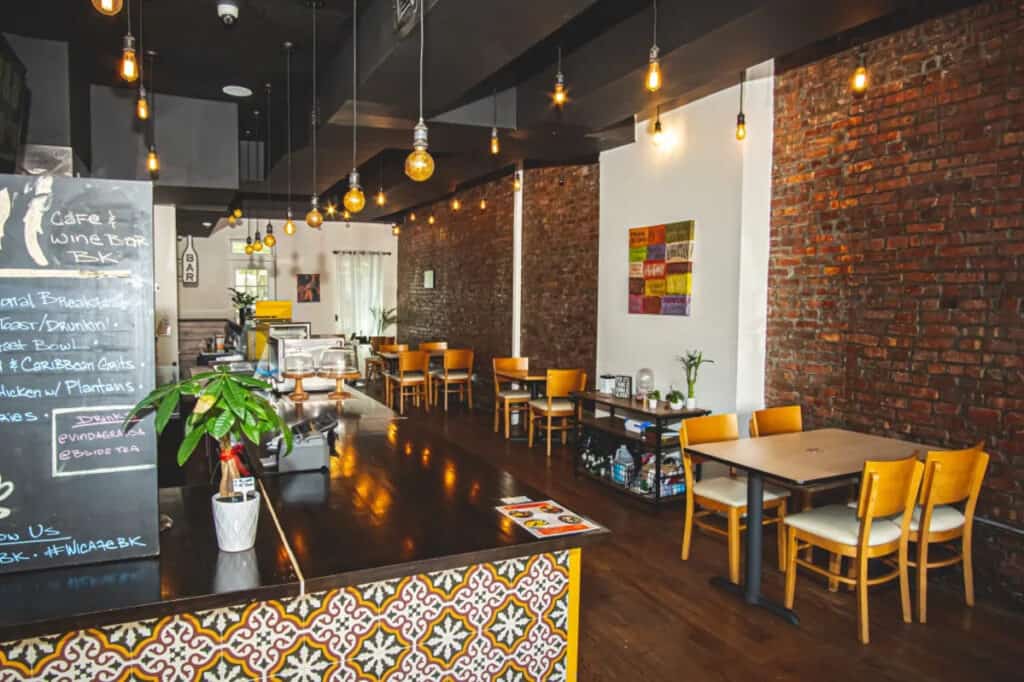 Looking for more tasty Among Us party ideas? Grab some Among Us cookie cutters to bake some delicious crewmate-shaped treats. They make an awesome way to recharge after some hard work on the spaceship.
You could also grab some colored frosting and decorate them with your guests as a fun party activity. Peerspace venues like this cool spacey cafe make a great spot to get creative.
6. Create Among Us crafts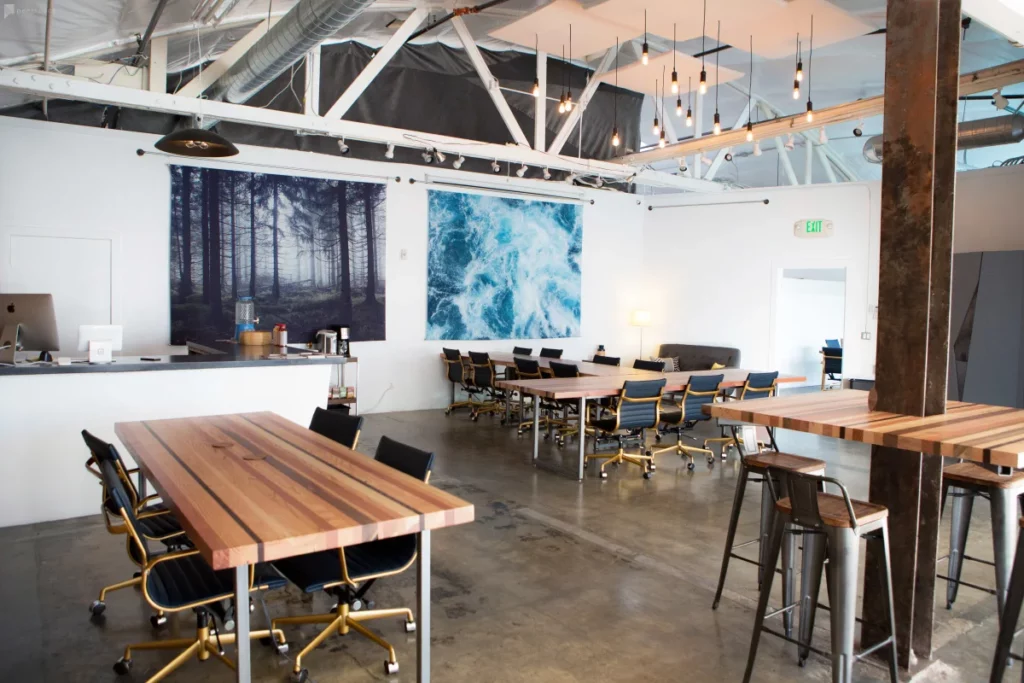 If you're not too keen on baking, you could set out supplies for kids to create DIY Among Us crafts at the party, like paper puppets or pencil toppers. Peerspace venues like this industrial lounge offer plenty of tablespace for crafts, as well as plenty of room to mingle with your fellow crew members.
7. Play Among Us cross-platform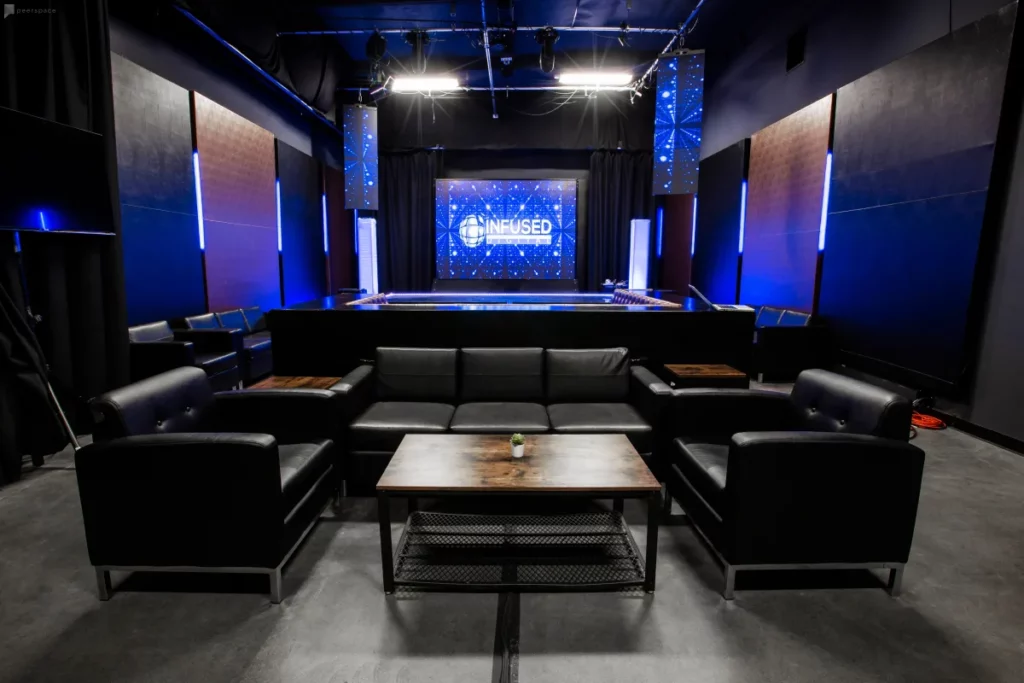 While playing Among Us party games is fun, there's nothing like a round of the video game to get everyone in the party mood.
Set up a private room for your friends and play Among Us on your phones, tablets, or portal gaming systems, like the switch. Playing the game in the same room can provide a new layer of depth since you'll be able to see everyone's face and sus out their reactions. Just make sure no one's cheating and peeking at each other's screens! You can remedy the peeking problem by making sure everyone has a spot to sit at a spacious Peerspace venue, like this streamer's lounge.
Side note: Our 10 fun game night party ideas are the perfect complement to these Among Us party ideas!
8. Host a virtual Among Us party
Who says you have to meet in person to host an Among Us party? Host an online party and play with voice chat to celebrate the occasion. It's an awesome Among Us party idea for friend groups in different cities. But if you want to make the gameplay extra special, renting a private Peerspace gamer lounge for a mini staycation is an awesome way to elevate the occasion.
9. Stage an Among Us photoshoot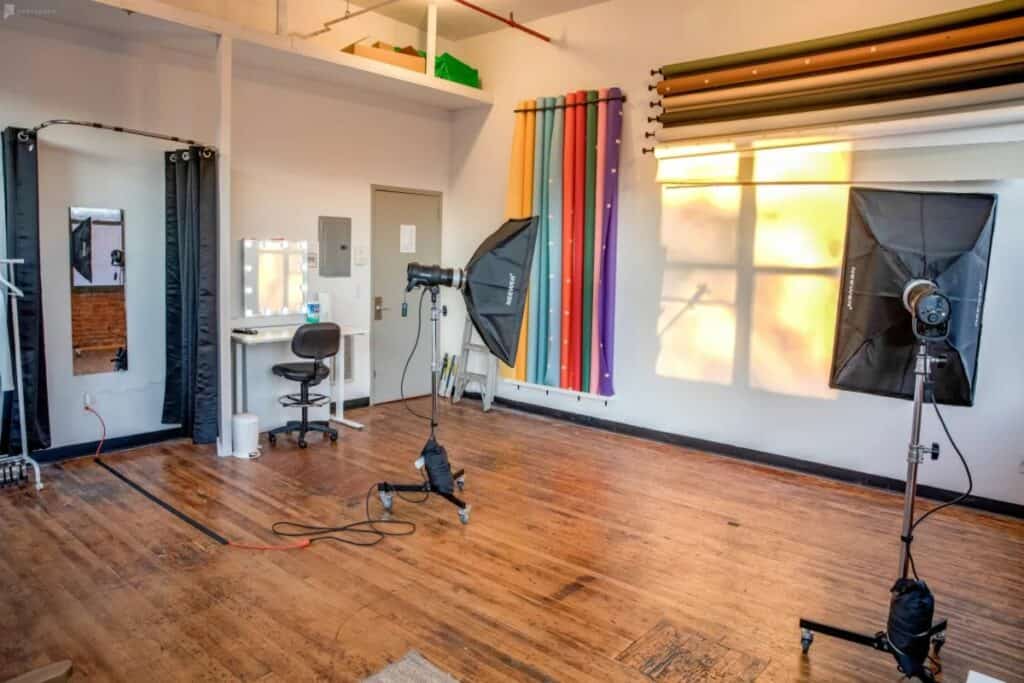 Want a way to remember your special party? Snap some Among Us-inspired photos of your little one before the party to celebrate the occasion.
You can find plenty of Peerspace studios with green screen backdrops, like this photo studio in New York. With a little photoshop magic, you can easily have a photo of your little one on their favorite Among Us map. 
10. Set up an Among Us photobooth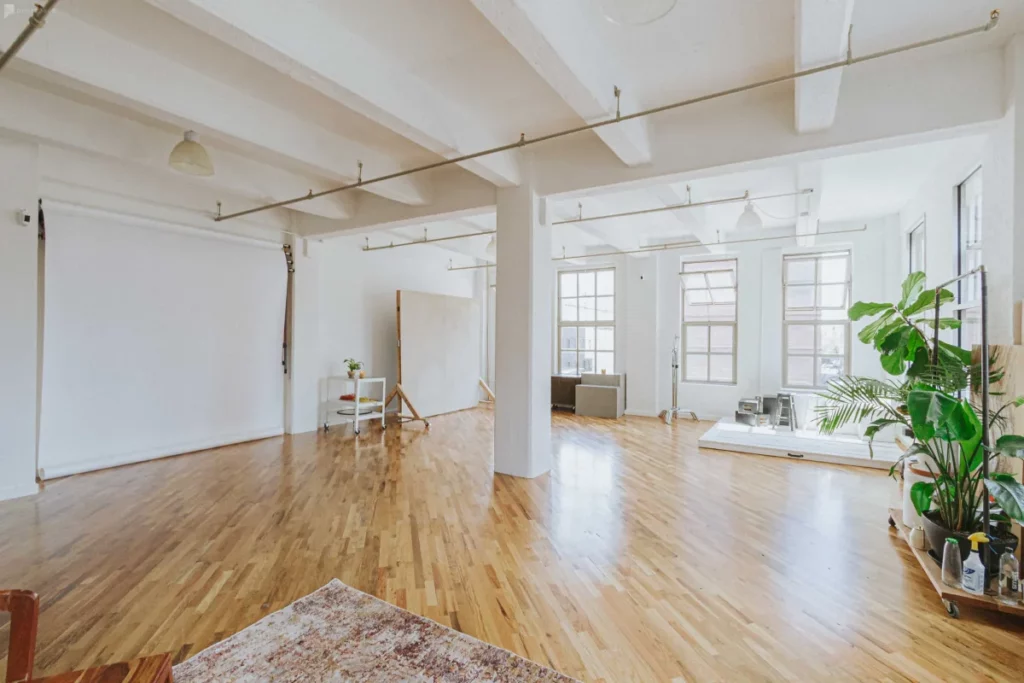 Want to share the camera with other guests? Instead of staging a photoshoot for the birthday boy or girl, set up an Among Us photo booth at your party so everyone can get in on the action.
Print out some props for everyone to pose with, and set up a spacey backdrop. Peerspace venues with plenty of natural light are perfect for snapping adorable pics, like this airy Brooklyn loft.
Before you start snapping away, check out these 11 creative kids photoshoot ideas!
11. Wear Among Us spacesuits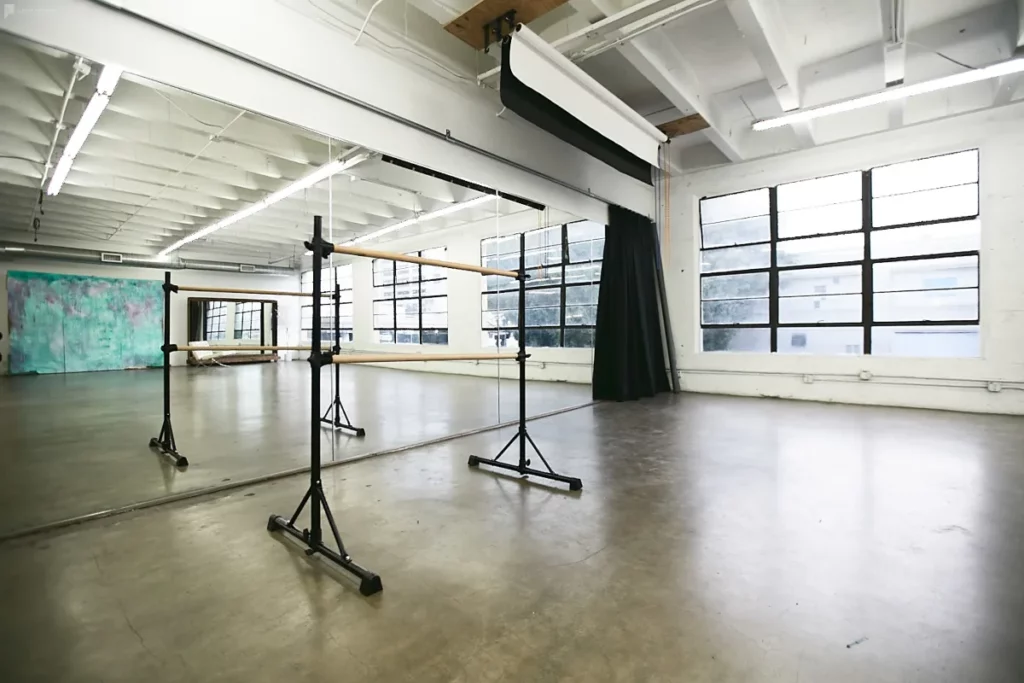 Here's a fun Among Us party idea that's perfect for dress-up fans. Ask guests to come dressed in an Among Us spacesuit to get in the party spirit. You could also include your favorite spacesuit accessories, like the Viking helmet, devil horns, or plague mask.
Peerspace venues with cute backdrops, like this bright studio in Downtown LA, are the perfect place to snap pics of everyone in their outfits. This also goes hand-in-hand with our next fun party idea.
12. Carve Among Us pumpkins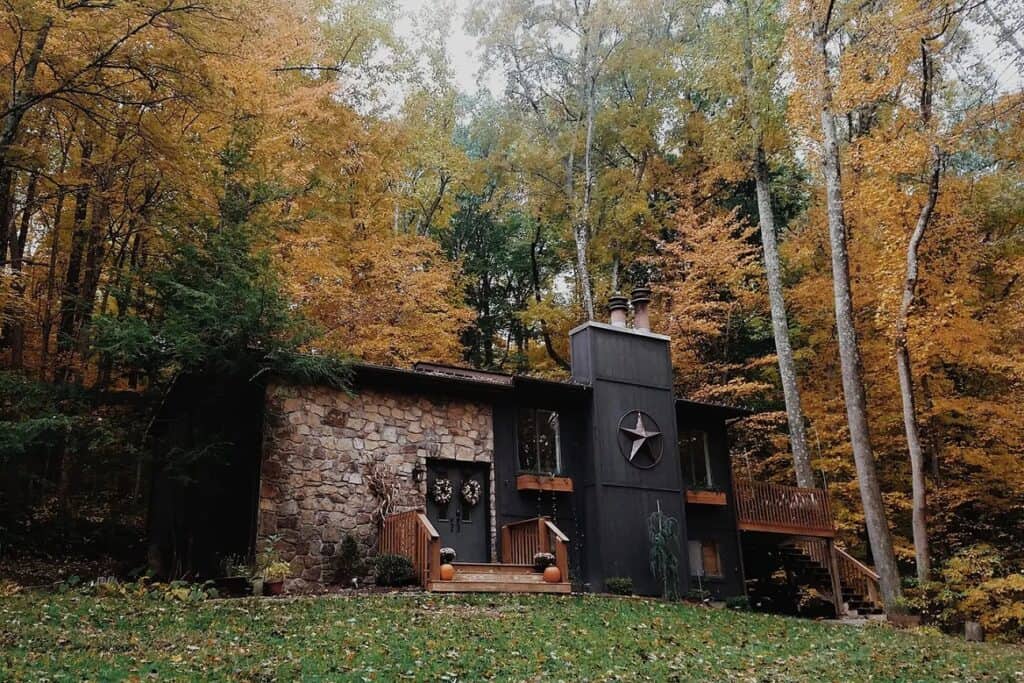 This spooky Among Us party idea is perfect for fall or October birthdays. Grab some pumpkins and carve jack-o-lanterns featuring Among Us crew members.
If you need inspiration, the internet is full of Among Us Halloween pumpkins. And you can soak up some of the gorgeous fall colors during your autumn Among Us party by hosting at an outdoor Peerspace venue, like this spooky cabin in New Jersey.
13. Host at an IRL spaceship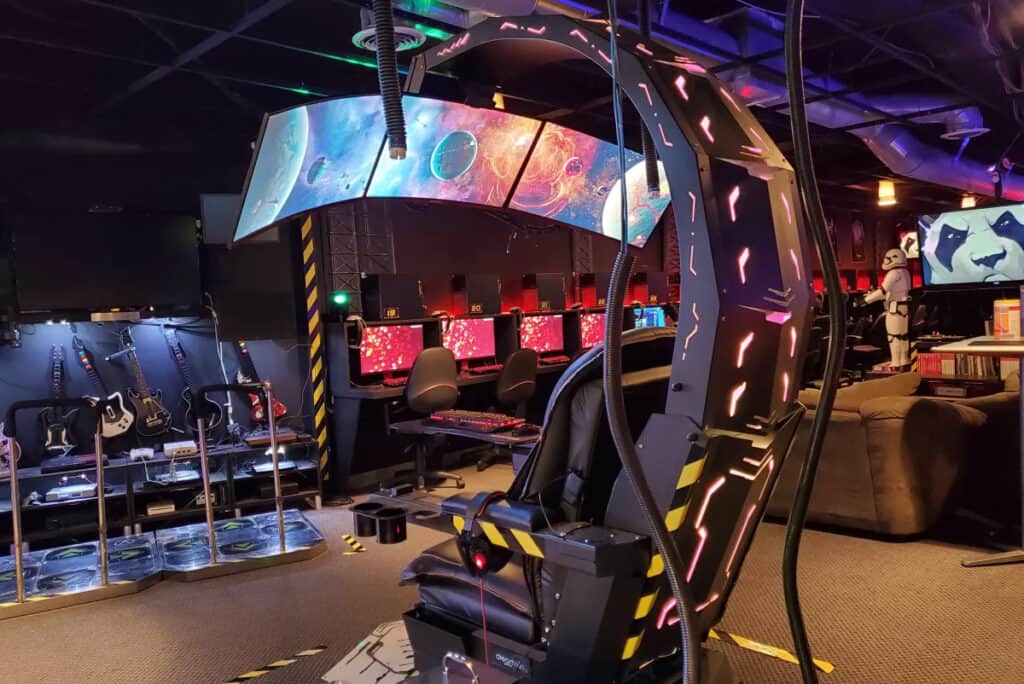 Last but not least, if you really want to take your event to the next level, then this Among Us party idea is for you. Peerspace is home to spaceship sets you can rent by the hour, like this high-tech command center that looks like a futuristic spaceship. 
Imagine how awesome it would be to play Among Us here, or take pictures in your colorful crewmember suits!  It's an epic way to host a next-level Among Us party that's sure to leave everyone talking.